CORMAN'S WORLD: EXPLOITS OF A HOLLYWOOD REBEL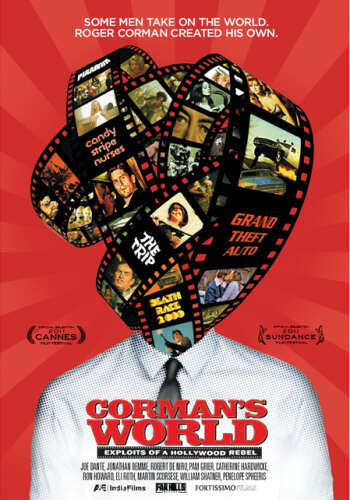 Synopsis
Blue jeans, sock-hops and drive-in movies: the Fifties were America's "age of innocence." But stalking the depths of its post-nuclear bliss, mass paranoia became fuel for Joseph McCarthy's brand of "Red Scare" terror propaganda. Bomb shelters were a deluxe feature in every American home, government-sponsored educational reels promised an imminent nuclear threat from across the Atlantic, and Hollywood, Babylon of the western world, hung on the brink of collapse.

It was here, in the last-ditch machinations of a dying juggernaut, that a mild-mannered, civil engineer's son would become the most influential force in modern movie making. CORMAN'S WORLD: EXPLOITS OF A HOLLYWOOD REBEL tracks the triumphant rise of Hollywood's most prolific writer-director producer, the true "godfather" of independent filmmaking.

Over the next six decades, Corman would self-finance hundreds of profitable, low-budget pictures and launch the careers of Hollywood's biggest talents including Jack Nicholson, Peter Fonda, Dennis Hopper, Martin Scorsese, Francis Ford Coppola and James Cameron. But by the late 70's Corman's world of exploitation would collapse when the giant studio system beat him at his own game. With more money and more power the studios recruited Corman's roster of directors and began making bigger budgeted exploitation films. The giants "out-cormaned Corman", and banished him forever to the land of straight to video schlock.

Corman's World takes us back to the days when Corman was King and a catalyst for the youth movement across the country in the 50's and 60's by featuring archival footage of American culture and countercultures from the 1950's to present day along with dynamic interviews with alumni of Corman's cutthroat school of filmmaking.

The film also shows the rise of the Corman renaissance with interviews with Indiewood's new school of filmmakers including Quentin Tarantino, Paul W.S. Anderson and Eli Roth; and reality-based footage following Corman, present day, as he continues to successfully produce and distribute films outside the studio system: fast, cheap and out-of-this-world!
Selected Festivals:
2011 Cannes Classics
Sydney FF
Munchen FF
Karlovy Vary IFF
Deauville American FF
Etrange FF
Milano FF
Athens IFF
New York FF
Pusan IFF
Sitges Fantastic FF
Ghent FF
Vienna IFF
Sao Paolo IFF
Tokyo IFF
Taipei Golden Horse FF
Mar Del Plata IFF
Stockholm IFF
Goa IFF
Filmfest Oslo
Hong Kong IFF
CPH:PIX
Imagine Fantastic FF
Docaviv FF
Helsinki IFF
Year
2011
Duration
86 Mins
Genre
Country
United States of America
Director
CORMAN'S WORLD: EXPLOITS OF A HOLLYWOOD REBEL is Alex Stapleton's feature length directorial debut. After interviewing Roger for an arts magazine back in 2006, she was determined to make a documentary about him that would illuminate his prolific contributions to the world of cinema. Making the film has been a film school education like no other. She now feels like an honorary graduate of the Roger Corman school of filmmaking that has also churned out many of her film heroes such as Francis Ford Coppola, Martin Scorsese, John Sayles and Jonathan Demme. CORMAN'S WORLD received its premiere at the Sundance Film Festival in 2011.

As a devout cinephile, Stapleton is a contributing film columnist for various publications such as Flaunt, Tokion and The New Cinema. She also recently hosted a film Television series, The American Revolutionaries, on The Ovation Network. Stapleton also produced Just For Kicks (Canal Plus/MTV Networks), a documentary on the urban sneaker culture, that premiered at The Tribeca Film Festival in 2004.
Producers
Alex Stapleton
Izabela Frank
Jeffrey Frey
Mickey Barold
Stone Douglass

Cast
Roger Corman
Jack Nicholson
Jonathan Demme
Martin Scorsese
Paul W. S. Anderson
Peter Fonda
Quentin Tarantino
Robert de Niro
Ron Howard

Additional Credits
Editor
Philip Owens
Editor
Victor Livingston
Production Company
Far Hills Pictures
Executive Producer
Molly Thompson
Executive Producer
Robert DiBitetto
Executive Producer
Robert Sharenow
Associate Producer
Gregory Locklear
Associate Producer
Leigh Stephenson
Associate Producer
Maggie Janes
Director of Photography
Patrick Simpson
Original Music
AIR
Music Supervisor
Margaret Yen
Art Director
Ben Hurand
Sound Design
Ryan Stuit