JEAN-MICHEL BASQUIAT: THE RADIANT CHILD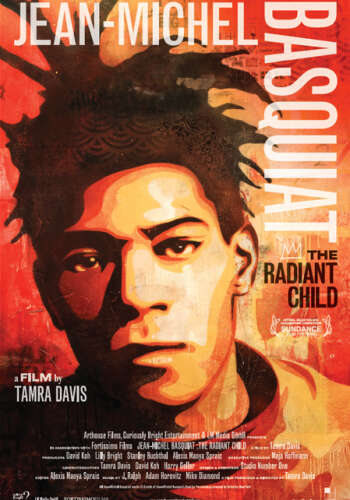 Synopsis
First feature length documentary biography of artist Jean-Michel Basquiat who is often considered one of the greatest American painters in the last half of the 20th Century and one of the greatest African American artists. His short life and unexpected death at the age of 27 made him into a cultural icon. Featuring a rare interview made 20 plus years ago with the filmmaker shortly before his death which was one of the only long interviews the artists ever made on camera. Featuring the body of the artists work along with interviews with Julian Schnabel, Larry Gagosian, Bruno Bischofberger, Tony Shafrazi, Fab 5 Freddy, Jeffrey Deitch, Glenn O'Brien, Maripol, Kai Eric, Nicholas Taylor, Fred Hoffmann, Michael Holman, Diego Cortez, Annina Nosei, Suzanne Mallouk, Rene Ricard, among many others.
Selected Festivals:
Sundance FF
Year
2010
Duration
90 Mins
Genre
Country
United States of America
Director
Tamra Davis is a film, television and music video director. She made numerous music videos for such diverse bands as N.W.A, Sonic Youth and Hanson. Her Tone Loc video for the single "Wild Thing" was one of MTV's most played videos of the 80's. Her first feature film, GUNCRAZY, stars Drew Barrymore. It was on Vincent Canby's top 10 list and gained a Golden Globe nomination for Barrymore. Tamra has directed 8 feature films including BILLY MADISON with Adam Sandler, CB4 with Chris Rock and HALF BAKED with Dave Chapelle. After she directed CROSSROADS with Britney Spears she temporarily retired to have children with her husband Mike D. of the Beastie Boys. While spending much time at home and on the road with 2 boys, make that 3 boys, she discovered a love for television and has directed such shows as "GREY'S ANATOMY," "UGLY BETTY" and "MY NAME IS EARL." She is currently pursuing her interest in internet content with a self made series called Tamra Davis Cooking Show.com in which she shares her passion for food, filmmaking and family. Her latest feature film, JEAN-MICHEL BASQUIAT: THE RADIANT CHILD has been selected for the U.S. Documentary Competition at the Sundance Film Festival.
Producers
Tamra Davis
David Koh
Lilly Bright
Stanley Buchthal
Alexis Manya Spraic

Cast
Julian Schnabel
Larry Gagosian
Bruno Bischofberger
Tony Shafrazi
Fab 5 Freddy
Jeffrey Deitch
Glenn O'Brien
Maripol
Kai Eric
Nicholas Taylor
Fred Hoffmann
Michael Holman
Diego Cortez
Annina Nosei
Suzanne Mallouk
Rene Ricard
Kenny Scharf
Thurston Moore

Additional Credits
Executive Producer
Maja Hoffmann
Cinematographer
Tamra Davis
Cinematographer
David Koh
Cinematographer
Harry Geller
Edited By
Alexis Manya Spraic
Music by
J. Ralph
Music by
Adam Horovitz
Music by
Mike Diamond
Artwork & Motion Graphics & Animation
Shepard Fairey
Artwork & Motion Graphics & Animation
Studio No. 1 / Obey
Research by
Roger Memos
Production Company
Arthouse Films
Production Company
Curiously Bright Entertainment
Production Company
LM Media GmbH
In Association With
Fortissimo Films