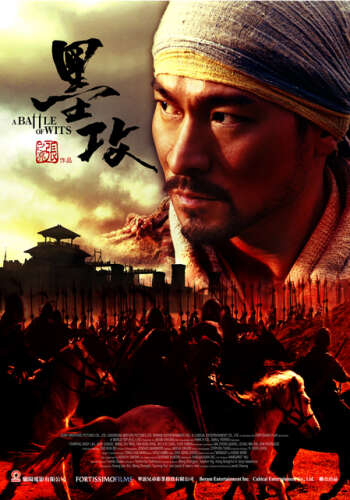 Synopsis
China, 370 B.C. The harrowing era of the warlords is vividly brought to life in this spectacular war epic, a recreation the popular comic series BOKKO. The small city state of Liang lies defenceless against the terrifying hordes of the Zhao nation. But the appearance of Ge Li (Andy Lau), a mysterious stranger from the Mo-Tsu tribe, signals both hope and apprehension among the citizens of Liang. Armed with only his wits, he begins to fight back the armies of Zhao, even as he risks the betrayal of the very people he seeks to protect…
Selected Festivals:
Honk Kong Film Awards - Best Editing
Udine Far East FF
Seattle IFF
Sitges FF
NatFilm Festival
Deauville Asian FF
Fantasia IFF
Cinefan
Year
2006
Duration
133 Mins
Genre
Country
China, Hong Kong, Japan, South Korea
Director
Jacob Cheung is one of the most acclaimed filmmakers in the Hong Kong cinema. He is renowned for refusing to compromise his filmmaking just to cater to the market. Born in Hong Kong, Jacob Cheung graduated from the Artiste Training Center of Hong Kong Television Broadcasts Limited (HKTVB). Early in his career, Mr. Cheung served as a production manager on films such as MR. VAMPIRE and MY LUCKY STARS, which featured the combined acting talents of Jackie Chan, Sammo Hung and Yuen Biao. Jacob Cheung made his directorial debut LAI SHI, CHINA'S LAST EUNUCH in 1986. He started his career as producer with THIS THING CALLED LOVE (1990), a Woody-Allenesque comedy on love and marriage. All of his films have been serious dramas and tragic-comedies, two of which, BEYOND THE SUNSET (1989) and CAGEMAN (1992), won the Best Film Award at the Hong Kong Film Awards, the latter also taking the Best Director Award.
Producers
Jacob Cheung Chi Leung
Huang Jianxin
Joo-Ick Lee
Satoru Iseki

Cast
Ahn Sung-ki
Andy Lau
Choi Si-Won
Fan Bingbing
Nicholas Wu
Wang Zhiwen
Xiang-Dong Xu

Additional Credits
Writer
Jacob Cheung Chi Leung
Executive Producer
James Wang
Executive Producer
Siuming Tsui
Executive Producer
Bong-Chul Hong
Executive Producer
Kazufumi Nagasawa
Co- Producer
Yoshimitsu Yoshitsuru
Line Producer
Margaret Yau Kit Ching
Associate Producer
Fumiko Osaka
Production Company
World Top (H.K.) Ltd
In Association With
Hark & Co.
In Association With
Small Potato Production
Production Manager
Zhuo Run Bei
Production Coordinator
Wai On Leung
Production Coordinator
Zheng Qiang Ma
Investor
Comstock Ltd
Investor
Huayi Brothers Film Investment Co. Ltd.
Investor
Sundream Motion Pictures Ltd.
Investor
Boram Entertainment Inc.
Cinematography
Zensho Sakamoto
Production Designer
Yi Zhen Zhou
Action Choreography
Stephen Tung
Music
Kenji Kawai
Editor
Eric Chi Leung Kong
Lighting
Takeshi Okubo
Costume
Hua Miao Tong
Adapted From
BOKKO by Kenichi Sakemi, Hideki Mori, Sentaro Kubota