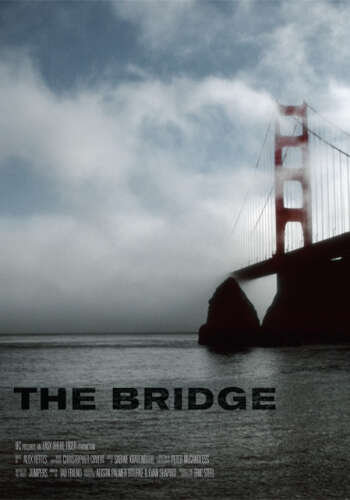 Synopsis
More people choose to end their lives at the Golden Gate Bridge than anywhere else in the world. The sheer number of deaths there is shocking but perhaps not altogether surprising. If one wants to commit suicide, that is, there is an eerie logic in selecting a means that is almost always fatal and a place that is magically, mysteriously beautiful.

The director and crew spent all of 2004, an entire year, looking very carefully at the Golden Gate Bridge, running cameras for almost every daylight minute, and filming most of the two dozen suicides and a great many of the unrealized attempts. In addition, the director captured nearly 100 hours of incredibly frank, deeply personal, often heart-wrenching interviews with the families and friends of these suicides, with witnesses who were walking, biking, or driving across the bridge, or surfing, kiteboarding, or boating underneath it, and with several of the attempters themselves.

THE BRIDGE offers glimpses into the darkest, and possibly most impenetrable corners of the human mind. The fates of these 24 people are linked together at the bridge and by a 4 second fall, but their lives seem to have been moving on parallel tracks and similar arcs all along.

Looming behind these stories is the Golden Gate Bridge itself, a monument that mirrors our highest aspirations and our lowest natures. We are uncomfortable with the grim realities suicide forces us to confront. We'd rather not see the mentally ill; we'd prefer suicides to be invisible -- or at least to take place quietly in hotel bathrooms, barns, dorm rooms and closets.

THE BRIDGE is at once a startlingly profound and poetic documentary, a visual and visceral journey into one of life's gravest taboos.
Selected Festivals:
Planete Doc Review Film Festival - Audience Award
Tribeca FF
Rome IFF
San Francisco IFF
Sarajevo FF
London FF
Chicago IFF
Istanbul FF
Belgrade IFF
Vilnius IFF
Transilvania IFF
Las Palmas de Gran Canaria IFF
Bergen IFF
Rio de Janeiro IFF
Silverdocs FF
Havana FF
Year
2006
Duration
93 Mins
Genre
Country
United States of America
Director
Eric Steel began his career as a creative executive at Walt Disney Pictures after graduating from Yale University in 1985. Later he worked as a Vice President at Cinecom, at the time the leading art film distributor. Shifting gears, he took a position as an Editor at Simon & Schuster and then as a Senior Editor at HarperCollins, where he published many noted and award winning books of fiction and non-fiction.

In 1995, he became Senior Vice President of Scott Rudin Productions. Along with the acquisition and development of many of the company's most prominent feature projects, he was the Executive Producer of ANGELA'S ASHES, and Co-Producer of BRINGING OUT THE DEAD and SHAFT.

In 2003, Eric Steel formed his own company, Easy There Tiger.

THE BRIDGE, Eric Steel's directorial and documentary debut, premiered at the Tribeca International Film Festival in 2005 and was released theatrically across the United States and around the world in 2006. Stephen Holden, in The New York Times, wrote THE BRIDGE is "one of the most moving and brutally honest films about suicide ever made." MTV selected THE BRIDGE as the best documentary of the year.

Eric Steel optioned, developed and produced (with Amy Robinson and Laurence Mark) JULIE & JULIA – directed by Nora Ephron and starring Meryl Streep and Amy Adams. The film was a Golden Globe nominee for Best Picture (Comedy or Musical).

KISS THE WATER had its world premiere at the Tribeca International Film Festival in April 2013.

Eric Steel's other credits include: ANGELA'S ASHES (1999) as Executive Producer and as Co: Producer: SHAFT (2000) and BRINGING OUT THE DEAD (1999).
Producers
Eric Steel

Additional Credits
Executive Producer
Alison Palmer Bourke
Associate Producer
Jessica Wolfson
Production Company
Easy There Tiger Productions
Director of Photography
Peter McCandless
Editor
Sabine Krayenbuehl
Music
Alex Heffes
Lighting
Arthur Aravena
Sound Design
Margaret Grimmins
Sound Design
Greg Smith