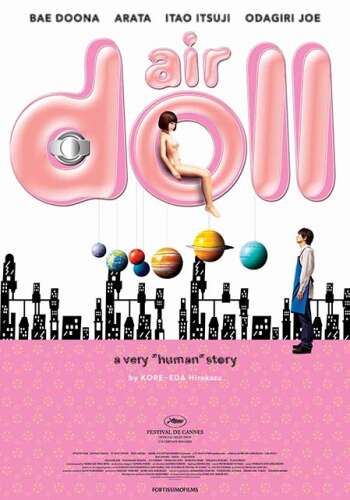 Synopsis
A life-size Air Doll lives in a shabby apartment in Tokyo. She cannot speak, nor can she move. But she is the only companion her middle-aged master has. He talks to her, puts her in a bath and makes love with her every day after he returns from work.

This routine life is disrupted when fantasy turns into reality. The Air Doll suddenly comes to life, filled with a soul. Like a newborn baby, she doesn't understand what is going on around her, but she sees a world waiting to be explored outside the apartment. Eventually venturing to the outside world, the Air Doll is fascinated by everything she sees, and though she meets many people in all walks of life, they can't seem to provide her an answer to what "being alive" means.

When the Air Doll wanders into a video store, her world is forever changed. She meets Junichi, the clerk, and immediately falls in love with him. Air Doll begins working in the store and everyday, she and Junichi become closer: they go to the movies and explore the city together...like a couple. Everything is going perfectly for the Air Doll, until one day when her hand is accidentally cut and she begins to deflate in front of Junichi...

A romantic fantasy that explores the complexities of love and loss, joy and pain, fantasy and reality, internationally acclaimed director Kore-eda Hirokazu returns with this bittersweet love story that examines the intricacies and frailties of human existence.
Selected Festivals:
Takashi FF - Best Film, Best Actor, Best Actress, Best Supporting Actor, Best Supporting Actress
Tokyo Sports Movie Awards - Best Actress
Cannes Un Certain Regard
Toronto IFF
Pusan IFF
Rotterdam IFF
Taipei Golden Horse
Belgrade IFF
Palm Springs IFF
Year
2009
Duration
116 Mins
Genre
Country
Japan
Director
Born in Tokyo, Japan, in 1962, Kore-eda graduated from Waseda University in 1987. He soon joined TV MAN UNION, directing several prize-winning documentaries.

His first feature film, MABOROSI, won the Osella d'oro at the Venice Film Festival in 1995. His second feature, AFTERLIFE, distributed in over 30 countries, brought Kore-eda international acclaim. His third film DISTANCE (HAF 2000 Project), was selected to screen In Competition at the Cannes Film Festival 2001 and his fourth film, NOBODY KNOWS, received the Best Actor Award at the Cannes Film Festival 2004 for Yagira Yuuya. 2006's HANA set in the Edo period is his first period piece. The film explored themes of chivalry and revenge.

In 2008, STILL WALKING, loosely based on his own experience, received its international premiere in Toronto, and won the Best Director Award at the Asian Film Awards and the Golden Astor Prize at the Mar del Plata International Film Festival.

In the same year, he directed his first feature documentary film "Daijôbu de aruyô ni: Cocco owaranai tabi" which follows a tour of Japanese singer-songwriter Cocco. AIR DOLL is his latest film. He has also produced three films by young Japanese directors. KAKUTO, directed by Iseya Yusuke, premiered at the International Film Festival Rotterdam 2003. WILD BERRIES, written and directed by Nishikawa Miwa, premiered at New Directors/New Films in New York 2003, while her second feature, SWAY, screened in the Director's Fortnight at the Cannes Film Festival 2006.
Producers
Toshiro URATANI
Hirokazu KORE-EDA

Cast
Doona BAE
Arata
Itsuji ITAO
Joe ODAGIRI
Masaya TAKAHASHI
Kimiko YO
Ryo IWAMATSU
Mari HOSHINO
Susumu TERAJIMA
Sumiko FUJI
Tomomi MARUYAMA
Miu NARAKI
Tasuku EMOTO

Additional Credits
Screenplay
Hirokazu KORE-EDA
Editor
Hirokazu KORE-EDA
Development Producer
Masahiro YASUDA
Executive Producer
Kazumi KAWASHIRO
Executive Producer
Yutaka SHIGENOBU
Executive Producer
Takeo HISAMATSU
Executive Producer
Masao TESHIMA
Associate Producer
Yoshihiro KATO
Cinematography
Mark LEE Ping-Bing
Original Story
Yoshiie GOUDA
Art Direction
Hiroki KANEKO
Music
World's End Girlfriend
Production Designer
Yohei TANEDA
Lighting
Eiji OSHITA
Sound
Yutaka TSURUMAKI
Producing Partner
TV Man Union
Producing Partner
Engine Film
Producing Partner
Bandai Visual
Production Company
TV Man Union
Producing Partner
Eisei Gekijo
Producing Partner
Asmik Ace Entertainment