SERGIO HERMAN, FUCKING PERFECT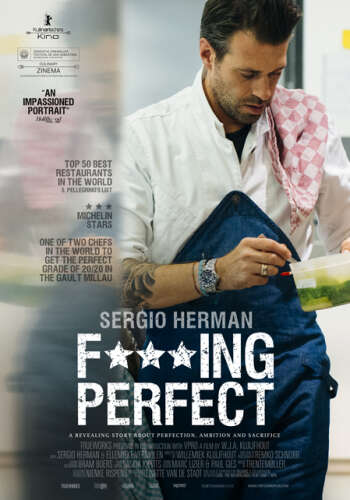 Synopsis
"You can have anything in life if you will sacrifice everything else for it." Peter Pan, By James M. Barrie

For 25 years, 3-star-Michelin chef Sergio Herman strives for perfection. On the height of this culinary career, Sergio decided that in order to further pursue his dreams; he must close his famous 3-star restaurant Oud Sluis. This documentary is an honest and intimate portrait that shows the struggles of a man in transition. How would Sergio deal with the existential questions and doubts that many of us identify with in life. FUCKING PERFECT is an intense story of perfectionism, ambition and sacrifices.
Selected Festivals:
Seattle FF - Documentary Special Jury Prize
Berlinale
Year
2015
Duration
80 Mins
Genre
Biography, Documentary, Women Directors
Country
Netherlands
Director
Willemiek Kluijfhout (1971) studied Philosophy at the University of Amsterdam and attended the Dutch Film and Television Academy as a director. She has directed several highly acclaimed documentaries and award winning fiction-­‐shorts that have been shown on television and at several international film festivals, such as BALL POSSESSION which won two nominations at the New York City Short Film Festival.
MUSSELS IN LOVE was Willemiek's first feature length film, competed for the Canon Cinematography Award at the Planete+ Doc festival in Warsaw, Poland (May 2013) and was the opening film of the Culinary Cinema at the Berlin Film Festival in 2013. Her latest feature length documentary SERGIO HERMAN, FUCKING PERFECT, that will premiere at the Berlinale 2015, is about Master chef Sergio Herman who closes down his 3 Michelin star restaurant Oud Sluis. A revealing story about perfection, ambition and sacrifices.
Producers
Reinette van de Stadt

Additional Credits
Cinematography
Remko Schnorr
Sound Recording
Bram Boers
Editor
Saskia Kievits
Sound Design
Marc Lizier
Sound Design
Paul Gies
Music
Trentemøller