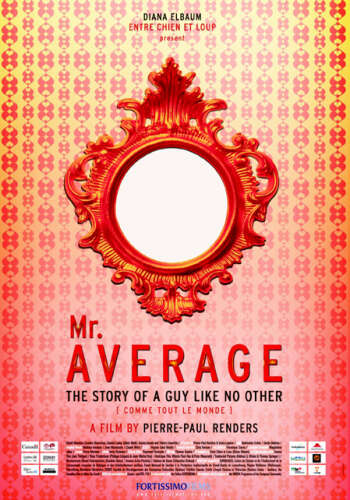 Synopsis
Jalil cannot believe it. The day he wins the final of the TV game "Mr. Average", a wonderful young woman falls into his arms and his life starts to look like a dream come true. So how could he have imagined that his new beloved Claire is a young actress whose mission is to deceive him through seduction and then share her life with him.

However for the actress, the challenge turns out to be more difficult than she originally thought. While living the lie, she starts to get very confused about her convictions and her feelings…

After THOMAS IN LOVE director Pierre-Paul Renders directs this satirical romantic comedy about our society and the role that stereotypes, love and marketing play in it. Our Mr Average is by no means … average!
Selected Festivals:
Moscow IFF
Palm Springs IFF
Tallinn Black Nights FF
Taipei Golden Horse FF
Year
2006
Duration
90 Mins
Genre
Country
Belgium, Canada, France, Germany, Luxembourg
Director
Pierre-Paul Renders was born in Brussels, Belgium in 1963. He is married and has a young daughter named Louise. He graduated from the Catholic University of Louvain in 1984 after studying Classical Philology; he qualified as Film Director at the IAD (Institut des Arts de Diffusion, Louvain-la ­Neuve) in 1989. He equally enjoys documentaries and fiction, television and cinema.

Renders is the author of La tendresse, one of the Sept péchés capitaux (collective Belgian full-length film, 1992, selected at the Critics Week in Venice in 1992). In 1993-1994, he directed several episodes of the television show Double Sept for the French-speaking Belgian television channel RTBF- Charleroi and acquired some experience as assistant-director in fiction, advertising and documentaries and directed actors for a television series. He wrote four documentaries for Médecins sans Frontières Belgique (Doctors without borders) between 1996 and 1998: Crise du Kivu, Paroles sans Frontières, Urgence Soudan and Sommeil Trompeur.

In early 2000 he completed his first full-length fiction film Thomas est amoureux (Thomas is in love, based on a script by Philippe Blasband).
Producers
Diana Elbaum

Cast
Khalid Maadour
Caroline Dhavernas
Chantal Lauby
Gilbert Melki
Amina Annabi
Thierry Lhermitte

Additional Credits
Production Company
Entre Chien et Loup
Co- Producer
Amérique Film
Co- Producer
Rezo Productions
Co- Producer
Samsa Film
Co- Producer
Tradewind Pictures
Screenplay
Denis Lapière
Screenplay
Pierre Paul Renders
Editor
Ewin Rijckaert
Sound
Pierre Mertens
Sound
Thomas Gauder
Director of Photography
Virginie Saint Martin
Art Director
Véronique Sacrez
Music
Claude Milot
Music
Jean Massicotte
Music
Mathieu Vanasse
Costume Designer
Magdalena Labuz