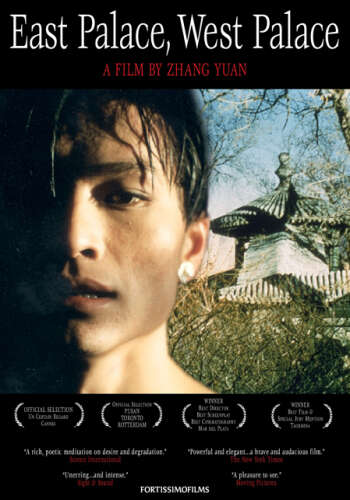 Synopsis
After a random night raid in a local park, a young gay writer, A-Lan, is held for an intensive one-on-one interrogation. Unwanted memories offer glimpses of A-Lan's tumultous childhood, first sexual experiences, forced farm labour, and his incessant search for love. Through the night, the interrogating officer confronts feelings that alternate between revulsion and fascination. An awkward love story unfolds.
Selected Festivals:
Mar Del Plata IFF - Best Director, Screenplay & Cinematography Awards
Taormina FF - Best Film, Special Jury Mention for Actors
Cannes Un Certain Regard
Edinburgh IFF
Helsinki IFF
London FF
Pusan IFF
Thessaloniki IFF
Toronto IFF
Karlovy Vary IFF
Rotterdam IFF
Year
1996
Duration
93 Mins
Genre
Country
China
Director
Independent film director and producer Zhang Yuan was born in Nanjing, China, in 1963. He graduated with a Bachelor of Arts degree in Cinematography from the Beijing Film Academy in 1989. In 1990, Zhang produced and directed his first feature film, MAMA, which subsequently won the Jury Award and a Special Mention at France's Festival des Trois Continents in Nantes. His second feature, BEIJING BASTARDS, completed in 1992, won a Special Mention at the Locarno Film Festival and the Jury Award at the Singapore Film Festival. In 1994, Zhang produced, directed and filmed a long documentary, THE SQUARE, which won a Jury Award at the Hawaii Film Festival. The following year he produced and directed SONS, which won the Tiger Award at Rotterdam. His next film EAST PALACE, WEST PALACE, the story of a gay writer and his captor, produced in 1996, won various awards including best direction at Mar del Plata Film Festival. The next two years saw him revisiting his favorite genre and the results are two documentaries: DEMOLITION AND RELOCATION, 1998, a winner of the 3rd "Asia Now" TV Documentary Proposals Competition, and CRAZY ENGLISH, 1999, which won the Best Documentary award at the 2nd Filmmakers Film Festival, Milan, Italy.

In 1999 Zhang Yuan also directed a feature film SEVENTEEN YEARS, a family drama of hate, crime and reconciliation, which won the Best Director award at the 56th Venice Film Festival. 2002 was his most productive year: he directed three films: JIANG JIE, a cinematic version of a revolutionary Beijing Opera of the same title; I LOVE YOU, an urban romantic drama; and GREEN TEA, a romantic mystery. Zhang is also an active MTV producer and director. His direction of Cui Jian's WILD IN THE SNOW won the Best Asian MTV Award at the American MTV Awards in 1991. His A PIECE OF RED CLOTH won a Special Mention at San Francisco's Golden Gate Awards. Zhang Yuan was selected by TIME MAGAZINE in 1994 as one of the hundred young world leaders for the next century.
Producers
Christophe Jung
Christophe Ménager
Zhang Yuan

Cast
Hu Jun
Si Han
Zhao Wei Films

Additional Credits
Executive Producer
Willy Tsao
Associate Producer
Yukang Zhang
Production Company
Amazon Entertainment Limited
Production Company
Quelqu'un d'Autre Productions
Screenplay
Zhang Yuan
Screenplay
Xiaobo Wang
Director of Photography
Jian Zhang
Music
Min Xiang
Art Director
Bing An
Sound
Gang Wu
Sound
Jianqin Shen
Editor
Vincent Levy