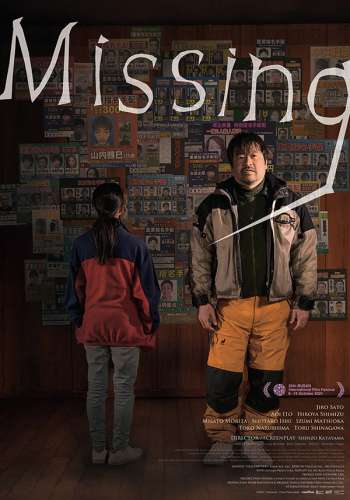 Synopsis
Depressed and in debt, Santoshi (Jiro Sato) tells his daughter Kaede (Aoi Ito) he wants to collect the reward for finding an infamous serial killer "No Name" (Hiroya Shimizu) whom he claims to have seen in town. His daughter thinks he is joking, but shortly afterwards, her father goes missing.
Selected Festivals:

2021
Busan IFF - New Currents (World Premiere)

2022
Udine Far East Film Festival
Prague International Film Festival
CinemAsia Film Festival - Jury Award
Motel X Lisbon
Japanese Film Festival Vienna
London East Asian Film Festival
Lund IFFF
Fancine Madrid
Paris IFFF

Year
2021
Duration
124 Mins
Genre
Country
Japan, Korea
Director
After working as an assistant director for Japanese films, including Nobuhiro Yamashita's works, he crossed paths with Bong Joon-Ho while shooting "TOKYO!"(2008) and served as his assistant director. Shocked and attracted by Bong Joon-Ho's direction style he moved to South Korea and worked for Bong Joon-Ho on "Mother"(2009) as assistant director.This experience hugely affects his creativity afterwards.
In 2019, his debut feature, "Siblings of the Cape" was selected by numerous domestic and international film festivals, including Göteborg Film Festival, the Geneva International Film Festival and Taipei Film Festival. Despite the low-budget independent film, its shocking narrative and direction led the film to be an unexpected hit at a Japanese box office, and it gained a high reputation through word of mouth.He now is one of the most promising, emerging directors in Japan, and his second feature, "Missing" ("Sagasu/さがす") will be his commercial film debut.
Cast
Jiro Sato
Aoi Ito
Hiroya Shimizu

Additional Credits
Screenplay
Shinzo Katayama
Screenplay
Ryo Takada
Screenplay
Kazuhisa Kotera
Editor
Hazuki Kataoka
Director of Photography
Naoya Ikeda
Music
Hiyoko Takai
Production Design
Takashi Matsuzuka