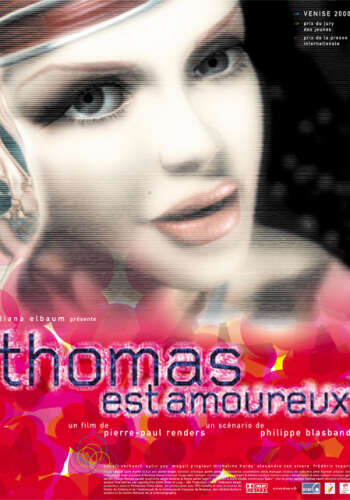 Synopsis
Thomas is a thirty-two year old suffering from acute agoraphobia. For eight years, he has been a deliberate prisoner in his own home, neither leaving the house nor letting anyone in. His only contact with other people is through his computer screen.

His insurance company, Gobale, is handling and administering most aspects of his life including his mental well being. With this strange and hermit-like existence Thomas is almost happy. But, he is alone. Clara, his long-time virtual partner does not amuse him anymore. His shrink decides that Thomas needs a major shake up and against Thomas's will signs him up for an Internet dating club.

At the same time, his insurance agent informs him that he is eligible to receive free of charge the services of prostitutes especially trained to handle mentally impaired people. On Thomas screen, real women start to call, but Thomas has no desire to see love starved women reaching out to him through his computer screen. He doesn't want to get married or ever fall in love.

And little by little, Thomas is getting puzzled and annoyed at these invasions into his feelings and his private and intimate world.

Can't everybody just leave him alone ?
Selected Festivals:
Mostra Venice - FIPRESCI Award, Best First Film
Montreal Festival of New Cinema - Special Jury Prize
Angers European First Film Festival - Independent Exhibitors' Award, Procirep Award
Gerardmer Fantastic FF - Grand Jury Prize, Youngsters Jury Award
Toronto IFF
Pusan IFF
Karlovy Vary IFF
Warsaw IFF
Paris FF
Year
2000
Duration
92 Mins
Genre
Country
Belgium, France
Director
Pierre-Paul Renders was born in Brussels, Belgium in 1963. He is married and has a young daughter named Louise. He graduated from the Catholic University of Louvain in 1984 after studying Classical Philology; he qualified as Film Director at the IAD (Institut des Arts de Diffusion, Louvain-la ­Neuve) in 1989. He equally enjoys documentaries and fiction, television and cinema.

Renders is the author of La tendresse, one of the Sept péchés capitaux (collective Belgian full-length film, 1992, selected at the Critics Week in Venice in 1992). In 1993-1994, he directed several episodes of the television show Double Sept for the French-speaking Belgian television channel RTBF- Charleroi and acquired some experience as assistant-director in fiction, advertising and documentaries and directed actors for a television series. He wrote four documentaries for Médecins sans Frontières Belgique (Doctors without borders) between 1996 and 1998: Crise du Kivu, Paroles sans Frontières, Urgence Soudan and Sommeil Trompeur.

In early 2000 he completed his first full-length fiction film Thomas est amoureux (Thomas is in love, based on a script by Philippe Blasband).
Producers
Diana Elbaum

Cast
Alexandre von Sivers
Aylin Yay
Benoît Verhaert
Frédéric Topart
Magali Pinglaut
Micheline Hardy

Additional Credits
Co- Producer
Arlette Zylberberg
Co- Producer
Jacques Bidou
Production Company
Entre Chien et Loup
Screenplay
Philippe Blasband
Cinematography
Virgine Saint Martin
Art Director
Pierre Gerbaux
Music
Igor Sterpin
Editor
Ewin Ryckart
Sound
Olivier Hespel
Costume Designer
Anne Fournier