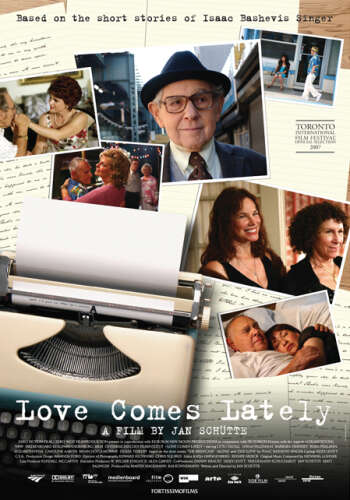 Synopsis
Though approaching his eighties, Max Kohn shows no signs of slowing down. He pursues his love life – both real and imagined – with youthful vigor, thereby risking his relationship to Reisel, the woman he loves but neglects. Based on the short stories "The Briefcase," "Alone" and "Old Love" by Isaac Bashevis Singer, LOVE COMES LATELY is a film about real and imagined longings, the never ending dream of love and the power of fiction.
Selected Festivals:
Toronto IFF
Sundance FF
Rome IFF
Warsaw IFF
Rio de Janeiro IFF
Haifa IFF
Guadalajara IFF
Singapore IFF
Shanghai IFF
Year
2007
Duration
86 Mins
Genre
Country
Austria, Germany, United States of America
Director
Jan Schütte started making movies in 1982. His first feature length film, DRAGON'S CHOW (1987), was shown at the Venice Film Festival and was sold to several territories worldwide including the USA. With WINKELMANN'S TRAVELS (premiered 1990 at Venice Film Festival) and BYE BYE AMERICA (premiered at 1994 Cannes Film Festival), Jan Schütte became one of the most interesting filmmakers of current German cinema. FAT WORLD was released by Polygram in 1998. His film about Bertold Brecht, THE FAREWELL, premiered at the Cannes Film Festival in 2000 and was sold to 14 territories. With SUPERTEX (2003), Jan directed a film based on a novel by Leon De Winter. He taught directing at the Filmakademie Baden-Württemberg and was a visiting professor in Harvard, NH, in 2000 and 2006. He has won international prizes such as 'Premio Cinecritica Venice' and the 'Prix Francois Truffaut'. In 2002 Jan Schütte, together with Martin Scorsese, David Lynch and Tilda Swinton, was on the jury board at the Cannes Film Festival. He is a member of the German Academy of the Arts and European Film-Academy.
Producers
Martin Hagemann
Kai Künnemann

Cast
Barbara Hershe
Elizabeth Pena
Otto Tausig
Rhea Perlman
Tovah feldshuh

Additional Credits
Executive Producer
W. Wilder Knight II
Executive Producer
Alex Gibney
Co- Producer
Danny Krausz
Co- Producer
Heidi Levitt
Co- Producer
Friedemann Schuchardt
Co- Producer
Matt Salinger
Co- Producer
Jan Schütte
Production Company
Dor Film
Production Company
zero fiction/zero west
Production Company
New Moon Productions
Screenplay
Jan Schütte
Director of Photography
Edward Klosinski
Director of Photography
Chris Squires
Production Design
Amanda Ford
Music
Henning Lohner
Editor
Katja Dringenberg
Editor
Renate Merck
Sound
Frank Kruse