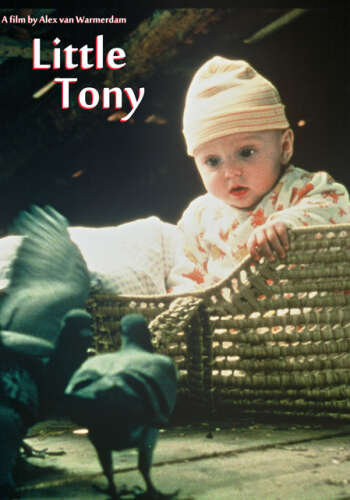 Synopsis
"What kind of a person must I be?" sighs Brand halfway through LITTLE TONY, Alex van Warmerdam's fourth feature film. The illiterate farmer has been set thinking by Lena, a young teacher who comes to give him lessons at home, on the farm. Keet, Brand's suspicious wife, keeps a close eye on both of them, because she sees that her husband has fallen in love with the girl from the city. As time goes on, a dark plan takes shape in Keet's mind. She purposely drives Brand into Lena's arms. Her manipulations are not without their consequences.

In this black comedy, van Warmerdam sketches the confusion and desperation which arise in this complicated three-cornered relationship. Too complicated for Brand, too confusing for Lena, too desperate for Keet.
Selected Festivals:
European Film Awards - Nominated Best Actress & Best Script
Cannes Un Certain Regard
Rotterdam IFF
Portland FF
Hong Kong IFF
Mar Del Plata IFF
Karlovy Vary IFF
Istanbul FF
Reykjavik IFF
Vancouver IFF
Warsaw IFF
Year
1998
Duration
95 Mins
Genre
Country
Netherlands
Director
Writer, designer, director and actor was born on August 14, 1952 in Haarlem, the Netherlands. After attending the School of Graphic Design, he went to study at the Gerrit Rietveld Academy in Amsterdam, where he graduated in graphic design and painting. He was co-founder of the Music-Theatre Company Hauser Orkater and in 1980 he set up De Mexicaanse Hond Theatre Company.
He made the short film DE STEDELING and after that, the feature films:
ABEL
(1986), which won the critic's award at the Venice film Festival, THE NORTHENERS (1992), which won three Felix's in 1992 for music, art direction and best film, and THE DRESS (1996), winner of the FIPRESCI Award at the Venice Film Festival, and the Dutch Film Critic's Award. THE DRESS was sold to over 25 territories. LITTLE TONY (1998), which won the Prize of the Filmfest (Annet Malherbe) at the Ludwigsburg/Stuttgart Film Festival and was nominated for the European Film Awards 1998 in the categories Best Actress and Best Script. GRIMM (2003) has been screened at several festivals worldwide. His films have won awards all over the world at international film festivals. BORGMAN (2013) was selected in competition at Cannes Film Festival.
Producers
Alex van Warmerdam
Marc van Warmerdam
Ton Schippers

Cast
Aat Ceelen
Alex van Warmerdam
Anneke van der Poll
Annet Malherbe
Ariane Schluter
Beppe Costa
Dolf Sauter
Hanneke Riemer
Houk van Warmerdam
Joeri Keyzers
Maike Meijer
Mees van Warmerdam
Rick Keyzers
Sebastiaan te Wierik
Thomas Rap
Thomas te Wierik

Additional Credits
Writer
Alex van Warmerdam
Production Company
Graniet Film
Cinematography
Marc Felperlaan
Art Director
Jelier and Schaaf
Lighting Designer
Erwin Roodhart
Sound
Ben Zijlstra
Costume
Leonie Polak
Make-up
Winnie Gallis
Editing
Stefan Kamp
Sound Editor
Peter Flamman
Music
Alex van Warmerdam