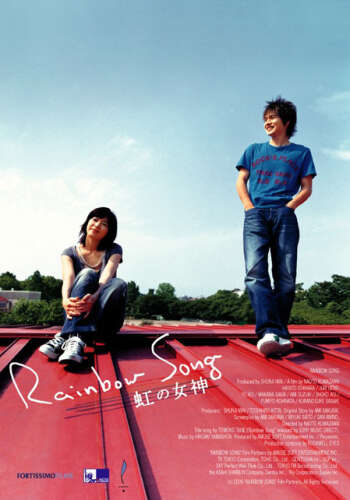 Synopsis
One day Tomoya, an incompetent but well-meaning staffer at a TV production company, discovers that his college friend Aoi Sato died in a plane crash in the United States. As he struggles to deal with the devastation, he cannot help but think of their past together, from their first meeting to their final farewell. When they first became friends, a circum-horizontal arc – a rare, flat phenomenon that looks like a rainbow – graced the sky. From failed romances to independent film projects to TV production ambition, Tomoya and Aoi developed a unique relationship. Sometimes, the very thing we search for, we cannot recognize until it is too late...but we can feel lucky knowing that we had something truly special, for a while.
Selected Festivals:
Pusan IFF
Karlovy Vary IFF
Tokyo IFF
Shanghai IFF
Year
2006
Duration
117 Mins
Genre
Country
Japan
Director
Born in 1967, Aichi, Japan, Naoto Kumazawa began directing independent films as a student. After graduating, he joined a production company while continuing to work on his own productions. As a freelance, he directed many of his own works in the documentary and music video fields. In 2004, his first commercial film, Tokyo Noir, was released, followed by Letters from Kanai Nirai in 2005, which garnered many accolades both inside and outside of Japan. His latest film, Vanished, stars Ken Miyake from V6, one of the leading pop star groups in Japan and Asia.
Producers
Shunji Iwai
Toshihiro Kitta

Cast
Hayato Ichihara
Juri Ueno
Yu Aoi

Additional Credits
Screenplay
Ami Sakurai
Screenplay
Miyuki Saito
Screenplay
San Amino
Original Story
Ami Sakurai
Production Company
Amuse Soft Entertainment Inc.
Cinematography
Masayuki Fujii
Cinematography
Shinichi Tsunoda
Music
Hiroaki Yamashita
Editing
Naoto Kumazawa
Production Design
Yukiyo Kawamura