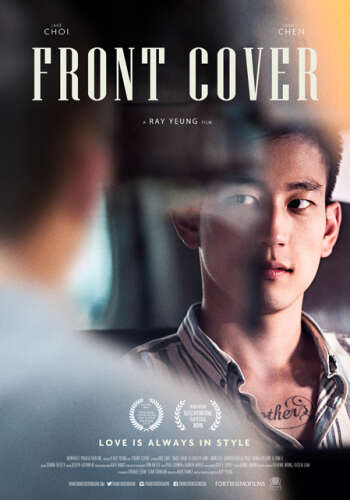 Synopsis
Front Cover tells the story of Ryan Fu, a gay Chinese American who rejects his Asian heritage and has learnt to suppress it to climb up the social ladder. Through talent and hard work he has attained his dream job as an assistant to Francesca, a celebrity fashion stylist.
One day Francesca assigns Ryan to style Ning, an actor who has just arrived from Beijing, for a top magazine photo shoot. Ning dismisses Ryan's initial Western styling and demands Ryan creates an image for him which represents the power of the new China. Their opinions clash resulting in a strained working relationship.
Over the following days, they socialize whilst working together and discover not only do they share a lot in common, a mutual attraction begins to develop. As they get closer Ryan reveals that he detests his Chinese heritage because he is ashamed of his impoverished upbringing. Ning also opens up and confesses that he is closeted.
As they fall in love, a Chinese tabloid magazine exposes Ning as gay. Terrified of the impact it will have on his career, Ning begs Ryan to lie for him at a press conference. Ryan must now decide whether to help Ning or stay true to himself.
Selected Festivals:
Golden Koala Chinese FF - Jury Award
Playa Del Carmen Queer IFF - Best International Feature Film
Boston Asian American FF - Audience Award
FilmOut San Diego - FilmOut Festival Award
Outflix FF - Jury Award
Chicago IFF
Seattle FF
Year
2015
Duration
86 Mins
Genre
Country
United States of America
Director
Ray Yeung is a qualified lawyer, chairman of the Hong Kong Lesbian & Gay Film Festival Society, and a successful and award-winning producer and director of plays, commercials and shorts. Ray Yeung has written and directed three short films: A CHINK IN THE ARMOUR, A BRIDGE TO THE PAST, funded by the British Arts Council, and YELLOW FEVER which won the Audience Award in Madrid Lesbian and Gay Film Festival. CUT SLEEVE BOYS is Ray Yeung's first feature film.
Producers
Kaer Vanice

Cast
Jake Choi
James Chen

Additional Credits
Co- Producer
Chowee Leow
Editor
Joseph Gutowsky
Cinematography
Eun-an Lee