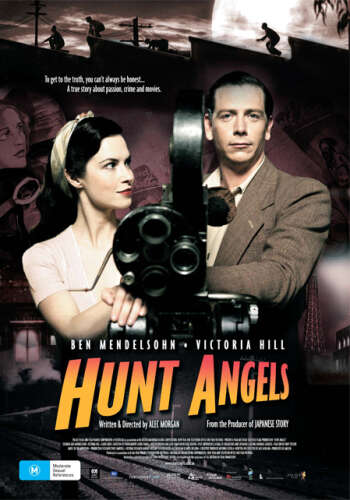 Synopsis
The award-winning HUNT ANGELS is a non-fiction feature film about Rupert Kathner and Alma Brooks who in 1939 began a movie making spree that took on the powerful cinema conglomerates, a corrupt police commissioner, the cultural cringe and a police posse all in their passionate pursuit to make the great Australian film.

HUNT ANGELS uses an innovative digital composite technique whereby the characters come alive in the real world of Sydney in the 30s and 40s. The performances are filmed in period settings and against green screen, the choreography of movement and lighting having been matched to background elements, and then inserted into striking b/w archival photographs which have been manipulated to appear as three dimensional space.
Selected Festivals:
Australian Film Institute Awards - Best Documentary, Best Cinematography in a Documentary, Visual FX Award
Film Critics Circle of Australia - Best Feature Documentary
Australian Screen Sound Awards - Best Achievement in Sound for a Documentary
Rotterdam IFF
Melbourne IFF
Hong Kong IFF
Berkshire IFF
Bangkok IFF
Year
2006
Duration
85 Mins
Genre
Country
Australia
Director
Alec Morgan is one of Australia's most experienced documentary filmmakers whose productions have screened on ABCTV and internationally. His credits include the multi-award winning LOUSY LITTLE SIXPENCE (1983), a seminal film that exposed the taking of Aboriginal children from their families, ADMISSION IMPOSSIBLE (1992) an investigation into the controversial White Australia immigration policies, and THE END OF THE EARTH (1990), winner of the Gold Medal for Best Environmental Film at the 1990 New York Film Festival. His short film directing credits include OLD FELLA NOW, (1980) winner of Best Short Film at the Adelaide Film Festival, and he scripted the comedy, DUSTY HEARTS (1990), winner of Best Short Film at the 1991 Asia-Pacific film festival. He was Creative Head of the television series OUR CENTURY (1999) for the Television Nine Network and a co-producer of THE SECRET COUNTRY (1988) a series that uncovered Australia's secret history. HUNT ANGELS is his first feature film.
Producers
Sue Maslin

Cast
Ben Mendelsohn
Eloise Oxer
Julie Herbert
Robert Bruning
Vicoria Hill

Additional Credits
Executive Producer
Antonio Zeccola
Co- Producer
Alec Morgan
Co- Producer
Daryl Dellora
Production Company
Film Art Doco
In Association With
BluSteal Films
Screenplay
Alec Morgan
Cinematography
Jackie Farkas
Production Designer
Tony Campbell
Composer
Jen Anderson
Editor
Tony Stevens
Sound Supervisor
Andrew Plain
Costume
Margot Wilson