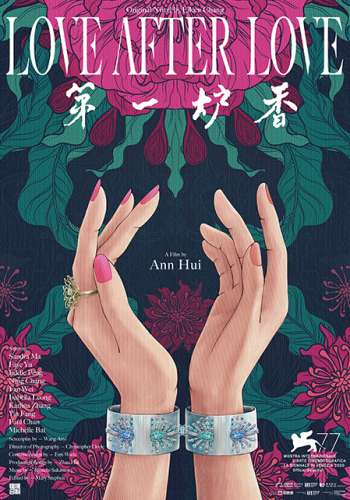 Synopsis
GE Weilong, a young girl from Shanghai, travels to Hongkong in pursuit of her education. In order to pay for her studies, she asks her aunt Mrs. Liang for help. Mrs Liang is leading a shady life and Weilong gradually becomes her aunt's puppet in the game of luring the rich and powerful men. As it happens, Weilong gets genuinely attracted to playboy George QIAO, who's aim is to marry a wealthy girl to maintain his own high-end class lifestyle. Thanks to Mrs Liang's scheming, Weilong ends up marrying George, but in order to keep the absurd relationship alive, she has to sell her soul.
Selected Festivals:
2020 Venice International Film Festival (World Premiere)
2020 Busan International Film Festival (Asian Premiere)
2020 Tokyo International Film Festival (Japanese Premiere)
Year
2020
Duration
140 Mins
Genre
Country
China
Director
Ann Hui (born 1947) is a Hong Kong film director, producer, screenwriter and actress. She is one of the most critically acclaimed Hong Kong New Wave filmmakers. She is known for her films about social issues in Hong Kong. Her film works cover different categories, including literary adaptation, martial arts masterpieces, semi-autobiographical works, female issues, social phenomena, political changes and thrillers.
Ann Hui has received numerous awards, including :Golden Horse Award (GHA) for Best Director in 1999, 2011 and 2014 Best Film at the Asia Pacific Film Festival in 1990, Hong Kong Film Awards for Best Director in 1983, 1996, 2009, 2012, 2015 and 2018. There are only two films in history claiming Grand Slam at Hong Kong Film Awards (a film winning the best picture, best director, best screenplay and best actor and actress at the same time)-Summer Snow and A Simple Life, both directed by Ann Hui.She was honored for her lifetime accomplishments at the 2012 Asian Film Awards. In 2017, the Academy of Motion Picture Arts and Sciences (AMPAS) invited Hui to become a member.
Cast
Sandra MA
Eddie Peng
Faye YU
Wei FAN

Additional Credits
Based on a short story by
Eileen Chang
Screenplay
Anyi Wang
Cinematography
Christopher Doyle
Art Direction
Zhao Hai
Costume
Emi Wada
Sound
Duu-Chih Tu
Music
Ryuichi Sakamoto
Production Company
Alibaba Pictures
Production Company
Blue Bird Film
Production Company
Hehe Pictures Corporation Ltd
Editor
Mary Stephen