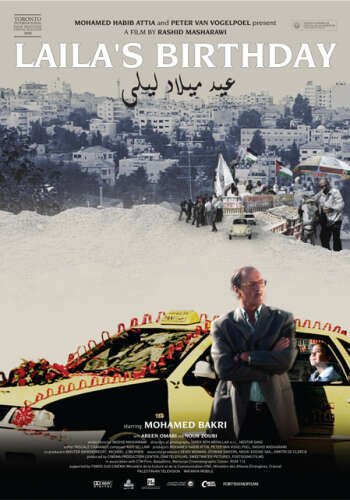 Synopsis
Judge Abu Laila (Mohamed Bakri) is forced to become a taxi driver when the government runs out of money to pay for his wages. On the day of his daughter Laila's seventh birthday, his wife insists that he needs be home early with a present and a cake. Abu Laila has nothing else on his mind than completing this mission. But the daily life in Palestine is a bit chaotic and takes him in many other directions before he gets home.
Selected Festivals:
Singapore IFF - Silver Screen Award
St Louis FF - Best Feature
Fajr FF - Mustafa Akkad Prize
San Sebastian IFF
Toronto IFF
Tokyo IFF
Middle East FF
Cairo FF
Chicago IFF
London FF
Amiens IFF
Antalya FF
Mannheim-Heidelberg IFF
Sarajevo FF
Seattle FF
San Francisco IFF
Karlovy Vary IFF
Year
2008
Duration
71 Mins
Genre
Country
Netherlands, Palestine, Tunisia
Director
Rashid Masharawi was born in 1962 in Shati refugee camp, Gaza Strip. He is a self-taught filmmaker who started working at eighteen in the film industry. In 1993, he directed his first feature CURFEW which garnered the UNESCO Award at Cannes.
Producers
Mohamed Habib ATTIA
Peter van Vogelpoel
Rashid Masharawi

Cast
Mohamed Bakri
Areen Omari
Nour Zoubi

Additional Credits
Writer
Rashid Masharawi
Executive Producer
Wouter Barendrecht
Executive Producer
Michael J. Werner
Associate Producer
Denis Wigman
Associate Producer
Othmar Sweers
Associate Producer
Nour-Eddine Sail
Associate Producer
Dimitri De Clercq
Production Company
CineTeleFilms
Production Company
Sweetwater Pictures
Director of Photography
Tarek Ben Abdallah
Director of Photography
Nestor Sanz
Editor
Pascal Chavance
Music Composer
Kais Sellami
Sound Engineer
Issa Qumsyeh
Set Designer
Al'a Abu Ghosh
Production Manager
May Ao'de