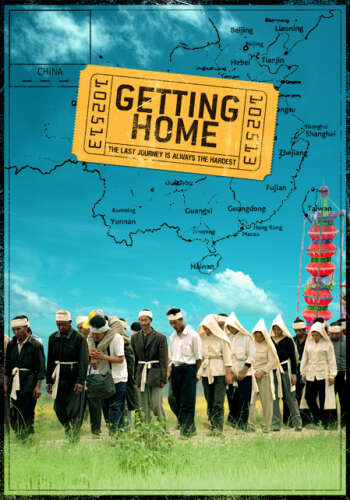 Synopsis
Co-workers Zhao and Liu, old friends both in their 50's, were drinking heavily one day when Liu died unexpectedly. In keeping with a promise to his friend, Zhao decides to travel thousands of miles across China to bring the body home. With next to no money and a corpse behind his back, Zhao's tragicomic odyssey brings him face-to-face with all manners of Chinese people in a world of rapidly changing values and mores. Based on a true story.
Selected Festivals:
Berlinale - Prize of the Ecumenical Jury
Trondheim FF - Grand Prize
Barcelona Asian FF - Audience Award
Bangkok IFF
Deauville Asian FF
Seattle FF
Vancouver IFF
Antalya FF
Cinemanila IFF
Maui FF
Trondheim FF
Rio de Janeiro IFF
Year
2007
Duration
97 Mins
Genre
Country
China, Hong Kong
Director
Zhang Yang was born March 28, 1967 in Beijing, China. He graduated from the Director's Department of the Central Theatre Academy. His works, including romantic drama (SPICY LOVE SOUP, 1997), road movie comedy (GETTING HOME, 2007, FULL CIRCLE, 2012) and powerful drama (SUNFLOWER, 2004, SOUL ON A STRING, 2016), achieved great recognition internationally. His films premiered in and won awards at acclaimed festivals as San Sebastian IFF, the Berlinale, Stockholm FF and Tokyo IFF. In recent years, Zhang Yang has moved into documentary film making, with PATHS OF THE SOUL (2015) as his first feature documentary, which premiered in Toronto IFF.
Producers
Stanley Tong
Er Yong
ZHANG Yang

Cast
GUO Degang
Hong Qiwen
Hu Jun
Song Dandan
SUN Haiying
Xia Yu
ZHAO Benshan

Additional Credits
Produced by
Harvey Wong
Produced by
Liu Qiang
Co- Producer
Michael J. Werner
Co- Producer
Wouter Barendrecht
Screenplay
ZHANG Yang
Screenplay
Yao Wang
Line Producer
Gao Da Kuan
Line Producer
Bobo Au
Production Manager
Wang Hong
Director of Photography
Yu Lik Wai
Director of Photography
Lai Yiu Fai
Production Designer
An Bin
Co-production Company
Beijing Jinqianshengshi Culture Media Co., LTD.
Art Director
Tong Tong
Sound Director
Danrong Wang
Lighting Designer
Chi Ming Wong
Make-up Artist
Jianping Liu
Costume Designer
Chongnan He
Editor
Yang Hongyu
Production Company
Filmko Entertainment Ltd.