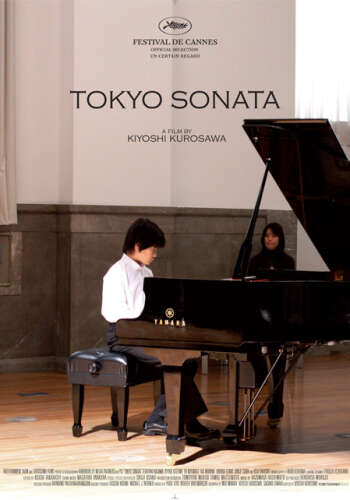 Synopsis
TOKYO SONATA is a portrait of a seemingly ordinary Japanese family. The father who abruptly loses his job conceals the truth from his family; the eldest son in college hardly returns home; the youngest son furtively takes piano lessons without telling his parents; and the mother, who knows deep down that her role is to keep the family together, cannot find the will to do so. From the exterior, all is normal and the same. But somehow, a single, unforeseeable chasm has appeared within the family, only to spread ever so quietly and quickly to disintegrate them.
Selected Festivals:
Cannes Un Certain Regard - Jury Prize
Osian's Cinefan - Best Film
Mar Del Plata IFF - Best Director
Asian Film Awards - Best Film, Best Screenwriter
Sydney FF
Toronto IFF
San Sebastian IFF
Jerusalem FF
Sao Paolo IFF
Vladivostok FF
Antalya FF
Bangkok IFF
Chicago IFF
Göteborg FF
Helsinki IFF
Jakarta IFF
Year
2008
Duration
119 Mins
Genre
Country
Hong Kong, Japan, Netherlands
Director
Born on July 19th, 1955 in Kobe, Hyogo Prefecture, Japan, Kurosawa started directing 8mm independent films while studying Sociology at Rikkyo University. In 1980, his first work SHIGARAMI GAKUEN screened at PIA Film Festival. Kurosawa then spent the next few years studying with directors Kazuhiko Hasegawa and Shinji Somai. In 1983, he made his commercial debut with the feature film, KANDAGAWA WARS.

In the next couple of years, THE EXCITEMENT OF THE DO-RE-MI-FA GIRL and GUARD FROM UNDERGROUND were released and Kurosawa attracted enthusiastic fans. In 1992 Kurosawa won a coveted spot in the Sundance Institute Screenwriter's Lab with his original screenplay CHARISMA. His SUIT YOURSELF OR SHOOT YOURSELF! series (1995-1996) and THE REVENGE series (1997) created more avid Kurosawa fans. Following the debut of CURE at the 1997 Tokyo International Film Festival, the film achieved international recognition and was theatrically released in many parts of the world. Kurosawa went on to win the Best Director prize for CURE at the Yokohama Film Festival.

In 1999, LICENSE TO LIVE screened in the Berlin Film Festival Forum, and CHARISMA was highly acclaimed at the Cannes Film Festival Directors' Fortnight. Later that same year BARREN ILLUSION was screened at the Venice International Film Festival. In 2001 PULSE screened at the Cannes Film Festival in Un Certain Regard, where it won the Critics' Prize. Later that year, the film also garnered the Critics' Prize at the Sitges Film Festival.

Two years later, Kurosawa returned with BRIGHT FUTURE, screening In Competition at the 2003 Cannes International Film Festival. That same year DOPPELGANGER, about a man who faces his alter-ego, was selected as the opening film for the Pusan International Film Festival. RETRIBUTION, finished in 2006, was officially selected for the Venice Film Festival.
Producers
Yukie Kito
Wouter Barendrecht

Cast
Haruka Igawa
Kai Inowaki
Koji Yakusho
Kyoko Koizumi
Teruyuki Kagawa
Yu Koyanagi

Additional Credits
Executive Producer
Yasushi Kotani
Executive Producer
Michael J. Werner
Production Company
Entertainment Farm
Production Company
Fortissimo Films
Editor
Koichi Takahashi
Music
Kazumasa Hashimoto
Screenplay
Kiyoshi Kurosawa
Screenplay
Sachiko Miura
Original Story
Max Mannix
Production Design
Tomoyuki Maruo
Production Design
Tomoe Matsumoto
Visual Effects Supervisor
Shuji Asano
Sound Mixer
Masayuki Iwakura
Lighting Designer
Tokuju Ichikawa
Director of Photography
Akiko Ashizawa