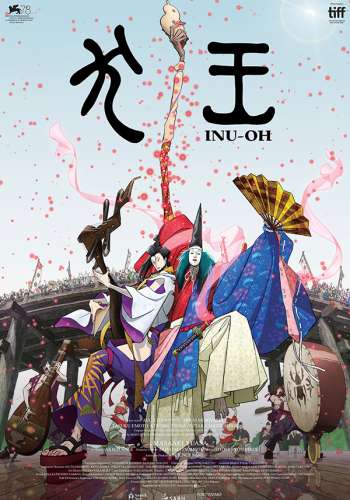 Synopsis
Inu-oh is born with unique physical characteristics and the horrified adults cover every inch of his body with garments, including a mask on his face. Tomona is curious boy from the countryside who loses his sight in a strange accident.
One day, Inu-oh and Tomona, now a blind biwa player, meet. Inu-oh asks him to write a song about his life. Tomona plays a delicate song of their tangled fate, Inu-oh, dances as he never knew he could.
Inu-oh and Tomona become business partners and inseparable friends as song after song gain them notoriety and propel them to stardom. Through the songs, Inu-oh mesmerizes his audiences on stage, and gradually begins to transform into someone of unequaled beauty. It is a story about the friendship of Inu-oh and Tomona, who dance and sing to get to the truth of their pasts and break each other's curse.
Selected Festivals:

2021
World Premiere Venice Orrizonti
North American premiere: Toronto Special Presentation
Busan IFF
Tokyo IFF
Warsaw IFF

2022
Göteborg IFF
Sydney IFF
Annecy IAFF
Future Film Festival (IT) - Winner Best Film
Helsinki IFF
Blon Animation FF
Tel Aviv Animation Week
Midnight Sun FF
Animest Bucharest FF
Sitges FF
Anilogue

Year
2021
Duration
98 Mins
Genre
Country
China, Japan
Director
Animated film director Masaaki Yuasa was born in Fukuoka prefecture, Japan on March 16, 1965. He made his feature-length debut in 2004 with "Mind Game", which won awards in Japan and overseas, including 6 prizes such as Best Film, Best Director, and Best Script, at the 2005Fantasia International Film Festival. His film "LU OVER THE WALL" won the Cristal for Best Feature Film at the 2017 Annecy International Animated Film Festival. His other major works include "Ping Pong: The Animation" ;"NIGHT IS SHORT, WALK ON GIRL"; "DEVILMAN crybaby"; and "RIDE YOUR WAVE"; "Keep Your Hands off Eizouken"; "SUPERSHIRO"; and "Japan Sinks: 2020".
Producers
Fumie Takeuchi
Eunyoung Choi

Cast
Avu-chan - Qeen Bee
Mirai Moriyama

Additional Credits
Screenplay
Akiko Nogi
Character Design
Taiyo Matsumoto
Original Story
Hideo Furukawa
Music
Otomo Yoshihide
Co- Producer
Yuhai Cheng