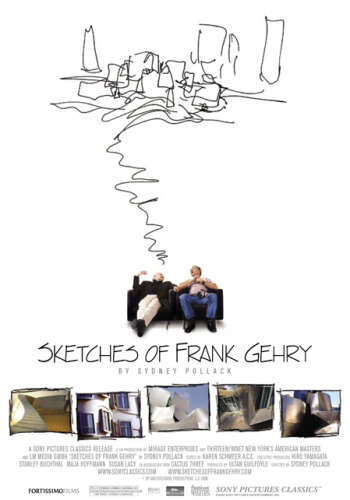 Synopsis
This is a love story form one artist to another. Sydney Pollack, who knew little about architecture except what he himself admired, was invited by his friend, the renowned architect Frank Gehry, to make a documentary about Gehry's life and working methods. Pollack, one of the American cinema's grandest forces, actor, producer and, most famously, director of such enduring classics as THEY SHOOT HORSES DON'T THEY?, TOOTSIE and THEY WAY WE WERE, was persuaded. The result of this collaboration between two friends is very special: Gehry is naturally at ease in front of Pollack's camera. Their rapport stems from deep mutual respect and the depth of insight culled from their experience as artists.

Armed with a video camera, Pollack dips into the highlight of Gehry's life, tracing his youth, his first marriage and his exponentially growing fame. Facing a creative block early in his career, Gehry ended up in the care of a psychiatrist, whom Pollack interviews and whose understanding of the creative mind unlocked Gehry's imagination. Freed from his crisis, Gehry eventually created such magnificent structures as the Guggenheim museum in Bilbao and the Walt Disney Concert Hall In Los Angeles. (Gehry is currently creating his first major project in Canada, the transformation of the Art gallery of Ontario, in the Toronto neighbourhood where he grew up.)

The film presents a very warm and observant working portrait of Gehry as he sits with trusted assistants and colleagues, painstakingly assembling models with scissors and cardboard until he achieves perfection. Pollack does a superb job capturing those moments when spontaneous ideas collide with practical concerns. This is an affectionate and sensitive film about a man who has dared to dream about buildings that transcend the rectilinear approach that defines so much architecture. Above all, Gehry, modest energetic and inquisitive, reveals himself to be a consummately charming subject.
Selected Festivals:
Cannes Out of Competition
Toronto IFF
Hong Kong IFF
Melbourne IFF
Deauville American FF
London FF
Rio de Janeiro IFF
Sao Paolo IFF
Guadalajara IFF
Warsaw IFF
Istanbul FF
Trondheim FF
Year
2005
Duration
83 and 51 Mins
Genre
Country
United States of America
Director
Sydney Polack was born and raised In Indiana and studied at the Neighbourhood Playhouse school of the theatre in New York. He worked extensively in television, directing such shows as THE FUGITIVE, NAKED CITY, ALFRED HITCHCOCK PRESENTS and BEN CASEY before making his feature directorial debut with THE SLENDER THREAD (65). His other films include THEY SHOOT HORSES, DON'T THEY? (69), THE WAY WE WERE (73), THESE DAYS OF THE CONDOR (75), ABENCE OF MALICE (81), TOOTSIE (82), OUT OF AFRICA (85) which won seven Academy Awards including best picture and best director, HAVANA (90), THE FIRM (93), SABRINA (95), THE INTERPRETER (05) and SKETCHES OF FRANK GEHRY (05). He was also a prolific actor and producer. SKETCHES was his last film.
Producers
Ultan Guilfoyle

Cast
Barry Diller
Dennis Hopper
Michael Eisner
Michael Ovitz
Philip Johnson
Sir Bob Geldof

Additional Credits
Executive Producer
Hiro Yamagata
Executive Producer
Maya Hoffmann
Executive Producer
Stanley Buchthal
Executive Producer
Susan Lacy
Executive Producer
Sydney Pollack
Associate Producer
Brainerd Taylor
Production Company
Mirage Enterprises
Cinematography
Claudio Rocha
Cinematography
George Tiffin
Cinematography
Marcus Birsel
Original Music
Claes Nystrom
Original Music
Jonas Sorman
Editor
Karen Schmeer
Sound
Jon Oh