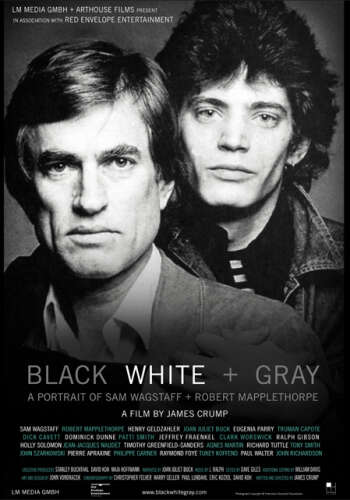 Synopsis
Yale-educated and born with a silver spoon in his mouth, Sam Wagstaff's transformation from innovative museum curator to Robert Mapplethorpe's lover and patron is intensively probed in Black White + Gray. During the heady years of the 1970s and 1980s, the New York City art scene was abuzz with a new spirit, and Mapplethorpe would be at the center of it. Wagstaff pulled him from his suburban Queens existence, gave him a camera and brought him into this art world that seemed to be waiting for him, creating the man whose infamous images instilled emotions ranging from awe to anger. In turn, Mapplethorpe brought the formerly starched-shirt preppie to the world of drugs and gay S&M sex, well-documented in his still-startling photographs. Twenty five years separated the lovers, but their relationship was symbiotic to its core, and the two remained together forever. The film also explores the relationship both men had with musician/poet Patti Smith, whose 1975 debut album "Horses" catapulted her to fame.
Selected Festivals:
Tribeca FF
Silverdocs FF
London FF
Vancouver IFF
Copenhagen DOX
Rio De Janeiro IFF
Seattle IFF
Woodstock FF
Year
2007
Duration
76 Mins
Genre
Country
Switzerland, United States of America
Director
James Crump is a writer, director and producer. He holds a Ph.D. in art history from University of New Mexico and has served as curator of photography at the Kinsey Institute for Sex Research. Among other works, he is the author of 'F. Holland Day: Suffering the Ideal' (1995) and 'George Platt Lynes: Photographs from the Kinsey Institute' (1993) and coauthor of 'When We Were Three: The Travel Albums of George Platt Lynes, Monroe Wheeler, and Glenway Wescott' (1998). BLACK WHITE + GRAY is his debut effort as a feature director. Crump resides in New York.
Producers
James Crump

Cast
Patti Smith
Robert Mapplethorpe
Sam Wagstaff

Additional Credits
Executive Producer
Stanley Buchthal
Executive Producer
David Koh
Executive Producer
Maja Hoffmann
Co- Producer
LM Media, GmbH
Co- Producer
Arthouse Films
Production Company
James Crump Productions, LLC
Writer
James Crump
Narrator
Joan Juliet Buck
Music
J. Ralph
Editor
David Giles
Additional Editing by
William Davis
Art and Design
John Vondracek
Cinematography
Christopher Felver
Cinematographer
Harry Geller
Cinematography
Paul Lundahl
Cinematography
Eric Koziol
Cinematography
David Koh