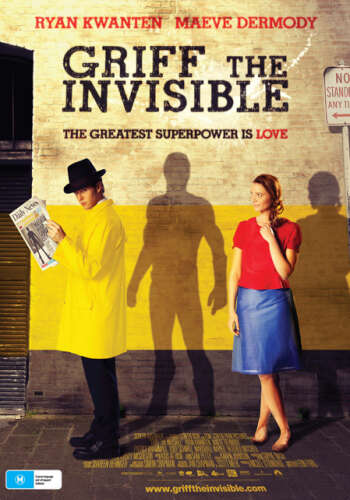 Synopsis
By day Griff (Ryan Kwanten) is an everyday office worker, in an everyday town; he lives a secluded life, bullied by co-workers, his protective brother his only friend. By night Griff assumes his other identity roaming the dark streets protecting the innocent and the vulnerable from the dangers that lurk in the shadows – he is the hero, Griff The Invisible. Increasingly concerned by Griff's eccentric behaviour, his brother attempts to draw him back into the 'real world'. In doing so, he introduces Griff to Melody (Maeve Dermody) an equally eccentric and charming girl. Fascinated by Griff's idiosyncrasies, which are equal only to her own, Melody begins to fall for Griff. As Griff is forced to face up to the realities of a mundane world, it is up to Melody to rescue Griff the Invisible for the sake of herself, Griff, and their love for each other.
Selected Festivals:
Toronto IFF
Berlinale Generation 14 & Panorama
Year
2010
Duration
93 Mins
Genre
Country
Australia
Director
An emerging writer/director whose first short film The Mechanicals was selected for Competition at Venice Film Festival 2005, London Film Festival, Rotterdam Film Festival, Palm Springs Film Festival and has won more than 8 awards worldwide. His half hour film, Katoomba won the Dendy Award at the Sydney Film Festival 2007, Best Film and Best Director at St. Kilda Film Festival 2008 and has so far screened in competition at Clermont-Ferrand, Melbourne and Flickerfest Film Festivals. Leon is also an accomplished actor who impressed audiences as Hamlet at the Sydney Opera House in 2003 which earned him a Green Room nomination for Best Male Actor, his screen performances include Steven Spielberg and Tom Hanks mini-series The Pacific and the Golden Globe nominated HBO mini-series Tsunami: The Aftermath as well ABC TV's critically acclaimed Changi. Leon has just published his first novel "What Doesn't Kill You" and is both the writer and director of Griff the Invisible.
Producers
Nicole O'Donohue

Cast
Ryan Kwanten
Maeve Dermody
Patrick Brammall
Toby Schmitz
Heather Mitchell
Marshall Napier
Kelly Paterniti
David Webb
Kate Mulvany
Anthony Phelan

Additional Credits
Writer
Leon Ford
Executive Producer
Jan Chapman
Executive Producer
Scott Meek
Director of Photography
Simon Chapman
Editor
Karen Johnson
Production Designer
Sophie Nash
Art Director
Sam Wilde
Costume Designer
Shareen Beringer
Music
KIDS AT RISK
Sound
Sam Petty
Production Company
Green Park Pictures
Submitted To
Liz Wrenn
Production Company
Screen Australia