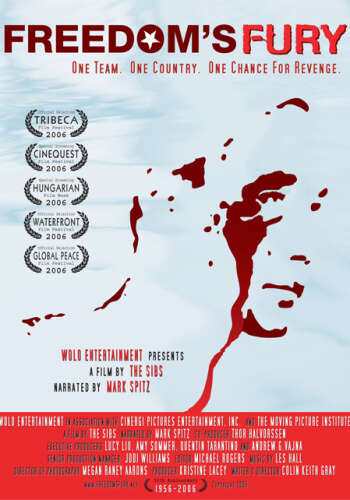 Synopsis
In FREEDOM'S FURY, the history of Soviet occupation of Hungary at the end of World War Two is interwoven with the country's emergence as a an international waterpolo powerhouse in the 50s. The journey of the 1956 Hungarian waterpolo team and its rising star Ervin Zador to the Melbourne Olympics then becomes the rallying cry for justice as FREEDOM'S FURY explores the larger human tragedy of a popular, democratic uprising that is brutally crushed by the Soviet Red Army in November 1956, just two weeks before the Olympics begin in Australia (over 15,000 people were killed or executed). The story is now finally told about the infamous water polo showdown between Hungary and the Soviet Union, also known as "the Bloodiest Game in Olympic History."
Selected Festivals:
Tribeca FF
Hong Kong IFF
Bahamas IFF
Cinequest
Global Peace FF
Warsaw IFF
Year
2006
Duration
90 Mins
Genre
Country
United States of America
Director
Colin Keith Gray and Megan Raney Aarons are a brother / sister writing & directing team known as The Sibs. Together, they are continually drawn to a provocative mix of social justice themes, irreverent comedy plus over-looked historical and political stories. The Sibs worked together for several years as a writing/directing team before officially launching GRAiNEY Pictures, a full service production shingle, in May 2003.
Producers
Kristine Lacey

Cast
Mark Spitz

Additional Credits
Director of Photography
Megan Raney
Executive Producer
Lucy Liu
Executive Producer
Amy Sommer
Executive Producer
Quentin Tarantino
Executive Producer
Andrew G. Vajna
Co- Producer
Laszlo Kantor
Co- Producer
Thor Halvorsen
Senior Production Manager
Jodi Williams
Music
Les Hall
Editor / Post-Production Supervisor
Michael Rogers
Audio Post Production
Media City Sound
Narrator
Mark Spitz
Production Company
GRAiNEY Pictures