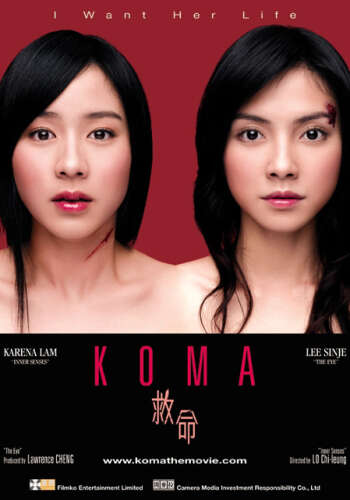 Synopsis
A psychological thriller directed by Lo Chi Leung (VIVA EROTICA, DOUBLE TAP, INNER SENSES) who is celebrated for his human sensitivity in any genre he tackles. KOMA unites the two princesses of Hong Kong horror, Lee Sinje (THE EYE) and Karena Lam (INNER SENSES) in a game of the victim and the victimizer until they can no longer tell the two identities apart.
Selected Festivals:
Hong Kong Film Awards - Nominated Best Leading Actress (Karena Lam)
CPH:PIX
AFI Los Angeles
Fantasy Filmfest Germany
Göteborg FF
Tallinn FF
Mexico Contemporary
Year
2004
Duration
88 Mins
Genre
Country
Hong Kong
Director
Chi-Leung Lo
Producers
Lawrence Cheng

Cast
Andy Hui
Angelica Lee
Annie Man
Karena Lam
Liu Kai-Chi
Raymond Wong
Roy Chow

Additional Credits
Executive Producer
Andrew Yu
Executive Producer
Yu Gang
Executive Producer
Kar Fai Tse
Production Company
Filmko Entertainment Ltd.
Screenplay
Susan Chan
Story
Sin-Ling Yeung
Cinematography
Chi-Ying Chan
Production Designer
Lim-Chung Man
Music
Kwong-Wing Chan
Sound
Kinson Tsang