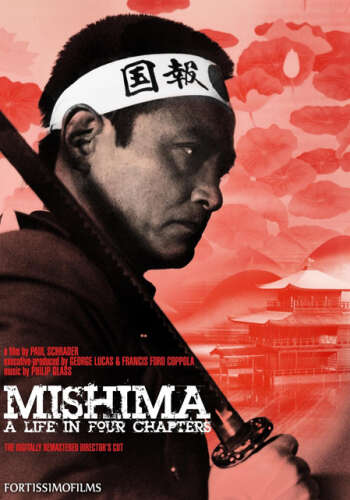 Synopsis
Paul Schrader's visually stunning, collage-like portrait of acclaimed Japanese author and playwright Yukio Mishima (played by Ken Ogata) investigates the inner turmoil and contradictions of a man who attempted an impossible harmony between self, art, and society. Taking place on Mishima's last day, when he famously committed public seppuku, the film is punctuated by extended flashbacks to the writer's life as well as by gloriously stylized evocations of his fictional works. With its rich cinematography by John Bailey, exquisite sets and costumes by Eiko Ishioka, and unforgettable, highly influential score by Philip Glass, Mishima: A Life in Four Chapters is a tribute to its subject and a bold, investigative work of art in its own right.
Selected Festivals:
Cannes Official Competition - Best Artistic Contribution
Year
1985
Duration
121 Mins
Genre
Biography, Drama, Queer Cinema
Country
United States of America
Director
Paul Schrader is a renowned American screenwriter and film director. After graduating from film school in Los Angeles he worked as a film critic until selling his first script in 1975, THE YAKUZA. The next year he wrote the screenplay for Martin Scorsese's TAXI DRIVER, the success of which led to his 1978 directorial debut, BLUE COLLAR. Known for his depictions of desperate men with moral ambivalence, he has written several screenplays, including three more with Scorsese: RAGING BULL (1980), THE LAST TEMPTATION OF CHRIST (1988) and BRINGING OUT THE DEAD (1999). He has also directed movies, often from his own scripts, including AMERICAN GIGOLO (1980), AFFLICTION (1997) and a movie about Japanese writer Yukio Mishima, MISHIMA: A LIFE IN FOUR CHAPTERS (1985), which is regarded as one of the greatest of biographical films in the history.
Producers
Mata Yamamoto
Mataichiro Yamamoto
Tom Luddy

Cast
Ken Ogata
Masayuki Shionoya
Hiroshi Mikami
Junya Fukunda
Shigeto Tachibara

Additional Credits
Screenplay
Chieko Schrader
Screenplay
Leonard Schrader
Screenplay
Paul Schrader
Executive Producer
Francis Ford Coppola
Executive Producer
George Lucas
Associate Producer
Leonard Schrader
Music
Philip Glass
Cinematography
John Bailey
Production Design
Eiko Ishioka
Costume Designer
Eiko Ishioka
Sound
Leslie Shatz
Visual Effects
Catherine Craig
Editor
Michael Chandler