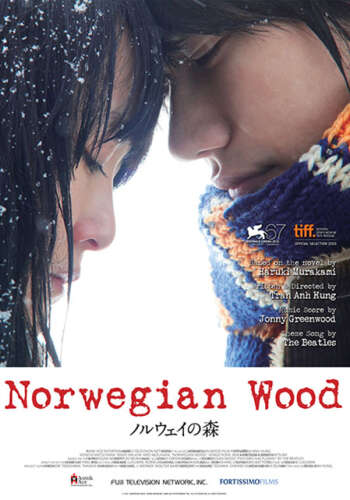 Synopsis
Published in 1987 and since translated into 33 languages, NORWEGIAN WOOD is a story of loss and heartbreak in a time of global instability. Haruki Murakami's bestselling novel is brought to the screen by Tran Anh Hung (Golden Lion winner for CYCLO and Academy Award nominee for THE SCENT OF GREEN PAPAYA) and features Japanese rising star Kenichi Matsuyama (DEATH NOTE, DETROIT METAL CITY) and Oscar nominee Rinko Kikuchi (BABEL) alongside newcomer Kiko Mizuhara.
Tokyo, the late 1960s…Students around the world are uniting to overthrow the establishment and Toru Watanabe's personal life is similarly in tumult. At heart, he is deeply devoted to his first love, Naoko, a beautiful and introspective young woman. But their complex bond has been forged by the tragic death of their best friend years before. Watanabe lives with the influence of death everywhere. That is, until Midori, a girl who is everything that Naoko is not – outgoing, vivacious, supremely self-confident – marches into his life and Watanabe must choose between his past and his future.
Selected Festivals:
Asian Film Award - Best Cinematography
Year
2010
Duration
133 Mins
Genre
Country
Japan
Director
Tran Anh Hung was born in Seno, in ex-Kingdom Of Laos on December 23rd 1962. In 1975, he exiled to France with his family, where he attended film school. His directorial debut THE SCENT OF GREEN PAPAYA (1992) won him a reputation internationally by winning Camera d'Or at the 46th Cannes Film Festival and the Best First Film Award at the 19th Cesar Awards. The film was also nominated for the Academy Award for Best Foreign Language Film. His second film, CYCLO (1995) won the Golden Lion Award for the Best Film at the 52nd Venice Film Festival. His other films include THE VERTICAL RAY OF THE SUN (2000) and I COME WITH THE RAIN (2009). NORWEGIAN WOOD is his most recent feature.
Producers
Shinji Ogawa

Cast
Eriko Hatsune
Kengo Kora
Kenichi Matsuyama
Kiko Mizuhara
Reika Kirishima
Rinko Kikuchi
Tetsuji Tamayama

Additional Credits
Writer
Anh Hung Tran
Based on the novel by
Haruki Murakami
Executive Producer
Masao TESHIMA
Executive Producer
Chihiro Kameyama
Associate Producer
Kaoru MATSUZAKI
Associate Producer
Joe Ikeda
Co-Executive Producer
Michael J. Werner
Co-Executive Producer
Wouter Barendrecht
Musical Score
Jonny GREENWOOD
Director of Photography
Mark LEE Ping Bin
Production Design & Costume Design
Yen Khe LUGUERN
Production Designer
Norifumi ATAKA
Lighting Director
Yuki NAKAMURA
Sound Mixer
Tomoharu URATA
Editor
Mario BATTISTEL
Production Company
Asmik Ace Entertainment
Production Company
Fuji Television Network