SHOCK LABYRINTH - EXTREME, THE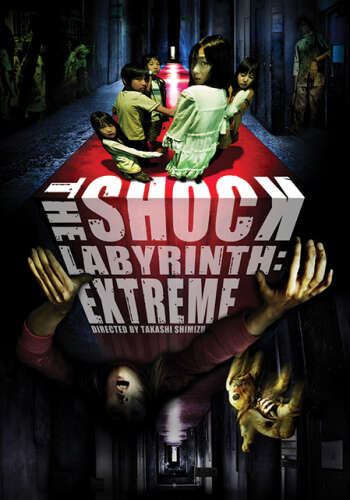 Synopsis
THE SHOCK LABYRINTH marks Japan's first foray into the world of live-action 3-D feature films. The story follows a group of teenagers dealing with the disappearance of a childhood friend, Yuki, who was last seen in an amusement park's haunted house. On a rainy day, 10 years after the incident, Yuki inexplicably returns. However, soon after reuniting with her friends, she collapses, and the group rushes her to a nearby hospital. But things are not quite as they seem at the medical center. As the night wears on, the group sinks deeper and deeper into the events from a decade ago that led to Yuki's disappearance.
Year
2010
Duration
89 Mins
Genre
Country
Japan
Director
Takashi Shimizu was born in 1972, in Gunma Prefecture. On the recommendation of director Kiyoshi Kurosawa and writer Hiroshi Takahashi, he made his debut with a short film for Kansai TV in 1998. Directing from his own scripts for V-Cinema, he scored a word-of-mouth success with JUON: THE CURSE and JUON: THE CURSE 2 in 1999, which led to their reimagining as theatrical features, the smash-hits JUON: THE GRUDGE (02) and JUON: THE GRUDGE 2 (03). At the request of director Sam Raimi, who produced the film, he remade his first film as THE GRUDGE (04). It took in more than $100 million in box-office receipts, and was the number one motion picture in the U.S. for two weeks running, the only time this has ever been accomplished by a Japanese director. A sequel, THE GRUDGE 2, also hit the number one position. A very low-budget film he made in 2004, STRANGER FROM AFAR, won the Golden Raven award at the Brussels International Festival of Fantasy Film. His other work includes TOMIE: REBIRTH (01), REINCARNATION (05), as well as work in the comedy series GHOST VS ALIEN (00~07), the serial drama THE GREAT HORROR FAMILY (04), and HIJOSHI ZUKAN (08). He has several projects under way, both in Hollywood and Japan.
Producers
Masayuki Tanishima
Satoru Ogura
Dai Miyazaki

Cast
Ai Maeda
Erina Mizuno
Misako Renbutsu
Ryo Katsuji
Suzuki Matsuo
Yuya Yagira

Additional Credits
Writer
Daisuke Hosaka
Executive Producer
Masao TESHIMA
Co-Executive Producer
Michael J. Werner
Based on the Attraction
"Senritsu Meikyu" by Fuji-Q Highland
Cinematography
Tsukasa Tanabe
3D Cinematography Supervisor
Tadayuki Ui
Lighting
Kazuo Kudo
Production Design
Nori Fukuda
Editor
Zensuke Hori
Sound
Yoshikazu Iwanami
3D Technical Advisor
Mitsuo Inoue
3D Technical Advisor
Mitsuharu Haibara
Music
Kuniaki Haijima (EMI Music Japan)
Theme Song
"Clone" by Straightner (EMI Music Japan)
Line Producer
Hironobu Osaki
Special Makeup & Character Design Supervisor
Yoshihiro Nishimura
Vfx Supervisor
Tsuyoshi Kazuno
Production Company
Ogura Jimusyo
Co-production Company
Agung Inc.
In Association With
Fortissimo Films
3D Technical Support
Imagica
Produced by
Asmik Ace Entertainment