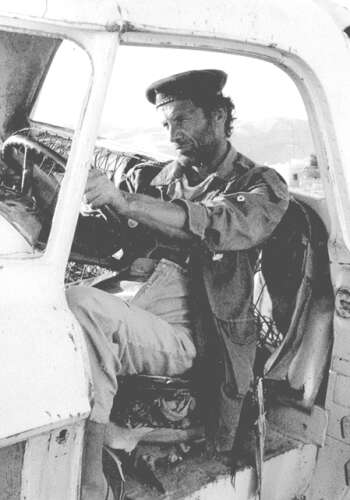 Synopsis
Haifa, nicknamed after the city of his love and hope, goes around and comes around in a Palestinian refugee camp. Although he is everybody's fool, there are many things that only he knows.

He is closely related to the family of Abu Said, a former policeman who gains new hopes from the political developments. Oum Said, his wife, hangs her hope on the imminent release of their eldest son, Said, from jail. She tries to find him a bride to secure things for the future. Their youngest son, Siad, is cynical and rebellious. He refuses to believe things. Sabah, the 12-year-old daughter is romancing the future and wants to find out what's in it for her. The different stories are interwoven into a very timely insight into the current Palestinian mind.
Selected Festivals:
Jerusalem FF - Mediterranean Cinema Award, Best Actor
Valencia FF - Best Actor
Cairo FF - Best Arabic Film
Cannes Un Certain Regard
Year
1996
Duration
75 Mins
Genre
Country
Netherlands, Palestine
Director
Rashid Masharawi was born in 1962 in Shati refugee camp, Gaza Strip. He is a self-taught filmmaker who started working at eighteen in the film industry. In 1993, he directed his first feature CURFEW which garnered the UNESCO Award at Cannes.
Producers
Rashid Masharawi
Henri Kuipers
Erik Schut
Peter van Vogelpoel

Cast
Ahmad Abu Sal'Oum
Areen Omari
Fadi el-Ghoul
George Ibrahim
Hiyam Abbass
Khalid Awad
Mahmoud Qadah
Mariam el-Hin
Mohammad Bakri
Nawal Zaqout

Additional Credits
Writer
Rashid Masharawi
Executive Producer
Areen Omari
Executive Producer
Ayoub Akhrass
Production Company
Ayloul Film Productions
Production Company
Argus Film Produktie
Associate Producer
Nora Armani
In Co-production with
WDR
In Co-production with
MedMedia
Cinematography
Edwin Verstegen
Editor
Hadara Oren
Art Director
Jamal Afghani
Original Score
Said Morad
Sound
Roberto Van Eijden
Sound
Noel Jabour