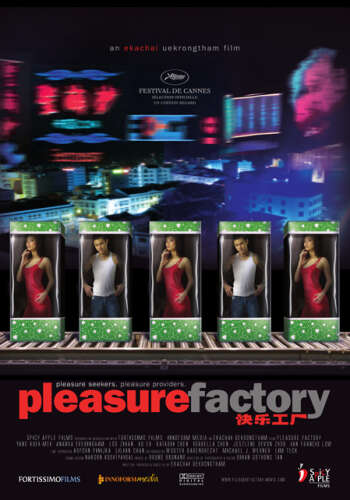 Synopsis
Inspired by true stories and real-life characters, PLEASURE FACTORY tells an intimate and seductive tale involving pleasure seekers and pleasure providers in Geylang, Singapore's red light district. In the course of one night, an army boy loses his virginity with the help of his experienced buddy; a teenage girl gets initiated into the pleasure manufacturing process; and a jaded prostitute pays a young busker good money in exchange for a song he never gets to sing.

The first feature film ever to be shot entirely on actual locations in Geylang, it stars Golden Horse Best Actress Yang Kuei-Mei (Ang Lee's EAT DRINK MAN WOMAN) and Ananda Everingham (Thai Horror Hit SHUTTER) alongside a cast of fresh talents found through street casting in the red light district and around Singapore.
Selected Festivals:
Cannes Un Certain Regard
Montreal World FF
Pusan IFF
Third Eye FF
Cinemanila IFF
Kerala IFF
Year
2007
Duration
88 Mins
Genre
Drama, New Thai Wave, Queer Cinema
Country
Singapore, Thailand
Director
An award-winning film and theatre director, Thai-born Ekachai Uekrongtham is also the Founding Artistic Director of ACTION Theatre, one of Singapore's premier theatre companies.

His first feature film Beautiful Boxer (2003), based on the true story of Thailand 's famed transsexual kickboxer, has garnered two Thai "Oscars" and twelve other awards from international film festivals around the world. He was named Asia's Most Promising Director at the 2004 International Film Festival of India, and Outstanding Emerging Talent at Outfest 2004 in Los Angeles. Beautiful Boxer was nominated for the GLAAD 2006 Media Award for Outstanding Film – Limited Release (USA).

On the theatre front, Ekachai has directed and produced more than 100 plays and musicals in Singapore, China, America, Malaysia and Thailand. He's best known for having conceptualized, produced and directed Chang & Eng, the acclaimed stage musical based upon the true story of the original Siamese Twins. Other theatre works include Autumn Tomyam (Singapore "Tony" Award for Play of the Year 2002), Corporate Animals - The Musical (Best Musical 1995), Ka-Ra-you-OK? (Best Musical 1998), Viva Viagra!, Mail Order Brides & Other Oriental Takeaway (Official Selection – 1998 New York International Fringe Festival) and the Asian premiere productions of Pulitzer Prize-winning Proof, Wit and Doubt.

A recipient of the Singapore Youth Award and the JCCI Culture Award, Ekachai was named one of the 20 Leaders of the New Millennium for Society & Culture by Asiaweek. He has previously headed the Development Unit of Thailand's GMM Pictures and the Singapore headquarter of Sir Cameron Mackintosh, producer of Les Misérables, Miss Saigon and Phantom of the Opera. He has also recently set up Spicy Apple Films, a film production company based in Singapore.
Producers
Ekachai Uekrongtham

Cast
Ananda Everingham
Ian Francis Low
Isabella Chen
Jeszlene Devon Zhou
Katashi Chen
Loo Zihan
Xu Er
Yang Kuei-Mei

Additional Credits
Script
Ekachai Uekrongtham
Co- Producer
Lim Teck
Co- Producer
Michael J. Werner
Co- Producer
Wouter Barendrecht
Editor
Brian Gothong Tan
Music Composer
Bruno Brugnano
Production Manager
Arporn Pinijka
First Assistant Director
Naradol Leopairote
Art Director
Magdelene Sim
Line Producer
Arporn Pinijka
Line Producer
Lilian Chan
Director of Photography
Brian Gothong Tan
Sound Design
Nakorn Kositpaisal