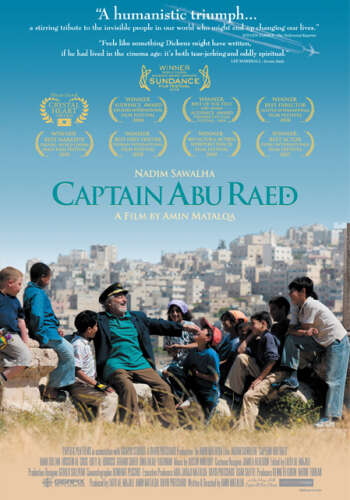 Synopsis
Captain Abu Raed is a universal story of friendship, inspiration and heroism set in contemporary Jordan.

Abu Raed is a lonely janitor at Amman's International Airport. Never having realized his dreams of seeing the world, he experiences it vicariously through books and brief encounters with travellers.
Finding a discarded Captain's hat in the trash at work one day, he is followed by a neighbourhood boy who spots him wearing it as he walks home. The next morning he wakes up to find a group of neighbourhood children at his door, believing him to be an airline pilot. And thus the friendship begins. Happy for the company and attention, he takes the children to colourful places around the world through his fictional stories and inspires them to believe in their own ambitions.
Murad, an angry outsider to the group, vindictively attacks Abu Raed and the sense of hope he instils in the children. In his quest to prove that Abu Raed is a liar and a fake, Murad begins to discover new possibilities in his life. Meanwhile, Abu Raed's friendship with Nour, a real female pilot, begins to grow as she deals with her own set of pressures from life in modern Amman. Captain Abu Raed is the story of everyday people intersecting across social boundaries. It is a story of dreams, friendship, forgiveness, and sacrifice.
Selected Festivals:
Sundance FF - Audience Award
Seattle FF - Best Director
Dubai FF - Best Actor
Maui FF - Feature Award
Newport Beach FF - Best Actor, Best Actress
Durban FF - Best Film
Jordan's entry to the Oscar
Edinburgh IFF
AFI Dallas IFF
Year
2007
Duration
110 Mins
Genre
Country
Jordan
Director
Before getting his MFA in Directing from the American Film Institute, Amin Matalqa took a journey to reunite with his childhood dream of making movies. He grew up in Jordan until he was 13, then immigrated to the US with his family and spent the next 14 years in Ohio. With a Business degree from Ohio State University and a successful five-year career in the telecommunications industry, he decided one day to follow his heart and start over by moving to Los Angeles. There, he made 25 short films while writing screenplays before bringing together a multi-national cast and crew to make his first feature film, CAPTAIN ABU RAED. With a knack for comedy, drama and suspense, he plans to continue making both American and Jordanian feature films while living in Los Angeles with his two dogs, Cello and Oboe.
Producers
Nadine Toukan
Kenneth Kokin
Amin Matalqa
Isam Salfiti

Cast
Nadim Sawalha
Rana Sultan
Hussein Al-Sous
Udey Al-Qiddissi
Ghandi Saber
Dina Ra'ed-Yaghnam

Additional Credits
Executive Producer
David Pritchard
Executive Producer
Aida Jabaji Matalqa
Production Company
Paper & Pen Films
In Association With
Gigapix Studios
Editor
Laith Al-Majali
Cinematography
Reinhart Peschke
Script
Amin Matalqa
Music
Austin Wintory
Production Design
Gerald Sullivan
Costume Designer
Jamila Allaeddin