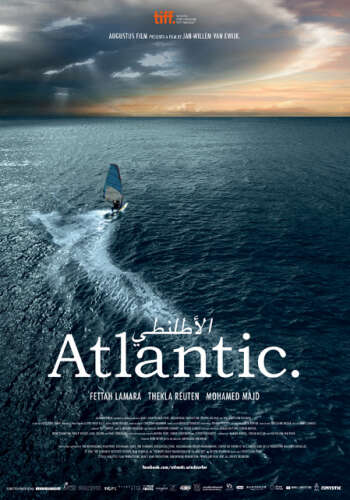 Synopsis
ATLANTIC. tells the story of Fettah, a young man who lives in a Moroccan coastal village where every summer, loads of hip and beautiful Europeans come to windsurf and enjoy the relaxed lifestyle. Fettah is one of the locals who helps them and looks after their needs. During one particularly memorable summer, Fettah befriends Alexandra (Thekla Reuten), a beautiful European woman. When she leaves to go back home, his little village becomes like a prison to him and he decides to embark on a treacherous and solitary windsurfing voyage to Europe. Every wave, every turn, every day on this epic and life-altering journey brings Fettah new dangers as he tries to chart a new horizon for himself.
Selected Festivals:
Netherlands FF - Development Award
Toronto IFF
Haifa IFF
Marrakech IFF
Year
2014
Duration
94 Mins
Genre
Country
Belgium, Germany, Luxembourg, Morocco, Netherlands
Director
Born in Holland and raised partly in California, Jan-Willem van Ewijk became fascinated with spaceships after seeing Star Wars as a child. He went on to study aerospace engineering and graduated as an airplane designer from the Delft University of Technology. He worked for Airbus in France, Beechcraft in the US and Bombardier Aerospace in Canada, before being lured away to the world of big business and big money in London, where he worked as a business consultant and investment banker.
But he felt something essential was missing from his life. At the age of 33, he decided to quit his job, sell his apartment and pursue another passion that had been with him ever since he saw Star Wars. He wrote a script, bought a video camera, casted his friends and family as actors and crew and made his first feature film Nu. Shot on a shoestring budget of $20,000, the film won awards for best debut feature at the Dutch Film Festival, best feature at the European Independent Film Festival and was selected to compete at the Montreal World Film Festival and the Seattle International Film Festival. Variety called it "A small gem."
Jan-Willem was invited to join the Sundance Lab with his second feature Atlantic., about a Moroccan windsurfer going on a long ocean journey. Atlantic was awarded the Kodak / NPP Development Award and the Filmmore Works In Progress Award at the Dutch film festival. Jan-Willem has just finished shooting and editing this film, which features non-actors in the lead, alongside experienced actors like Thekla Reuten (The American / In Bruges) and the late Mohamed Majd (Syriana / Incendies).
Producers
Bero Beyer

Cast
Boujmaa Guilloul
Driss Hakimi
Fettah Lamara
Hassna Souidi
Jan-Willem van Ewijk
Mohamed Majd
Soufyan Sahli
Thekla Reuten
Wisal Hatimi

Additional Credits
Writer
Abdelhadi Samih
Writer
Jan-Willem van Ewijk
Cinematography
Jasper Wolf
Editor
Mona Bräuer
Co- Producer
Marion Hänsel
Production Company
Augustus Film