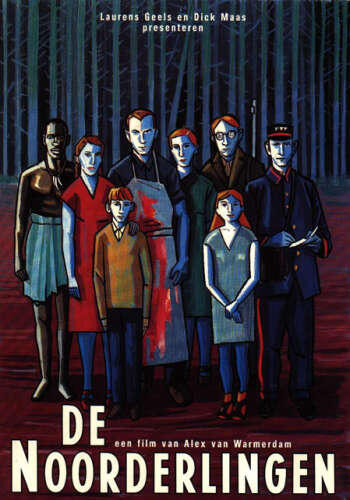 Synopsis
THE NORTHERNERS is a dark and surreal comedy that takes place in a run-down 1960's housing development. When his mother is drawn into sainthood and the resulting frustrations of his father become too difficult to manage, Thomas, a young boy, becomes obsessed with events on the broadcast news. He is encouraged in this escapism by Plagge, the postman who reads all the mail and knows all of the bizarre and intimate secrets of the eccentric inhabitants of the estate.
Selected Festivals:
European Film Awards - Young European Film of the Year, Best Composer, Best Production Designer
Netherlands FF - Best Actor, Best Director
Year
1992
Duration
108 Mins
Genre
Country
Netherlands
Director
Writer, designer, director and actor was born on August 14, 1952 in Haarlem, the Netherlands. After attending the School of Graphic Design, he went to study at the Gerrit Rietveld Academy in Amsterdam, where he graduated in graphic design and painting. He was co-founder of the Music-Theatre Company Hauser Orkater and in 1980 he set up De Mexicaanse Hond Theatre Company.
He made the short film DE STEDELING and after that, the feature films:
ABEL
(1986), which won the critic's award at the Venice film Festival, THE NORTHENERS (1992), which won three Felix's in 1992 for music, art direction and best film, and THE DRESS (1996), winner of the FIPRESCI Award at the Venice Film Festival, and the Dutch Film Critic's Award. THE DRESS was sold to over 25 territories. LITTLE TONY (1998), which won the Prize of the Filmfest (Annet Malherbe) at the Ludwigsburg/Stuttgart Film Festival and was nominated for the European Film Awards 1998 in the categories Best Actress and Best Script. GRIMM (2003) has been screened at several festivals worldwide. His films have won awards all over the world at international film festivals. BORGMAN (2013) was selected in competition at Cannes Film Festival.
Producers
Dick Maas
Laurens Geels

Cast
Jack Wouterse
Annet Malherbe
Rudolf Lucieer
Loes Wouterson
Leonard Lucieer
Alex van Warmerdam

Additional Credits
Writer
Alex van Warmerdam
Cinematographer
Marc Felperlaan
Original Music
Vincent van Warmerdam
Editor
René Wiegmans
Production Design
Rikke Jellier
Art Director
Alfred Schaaf
Costume Designer
Leonie Polak