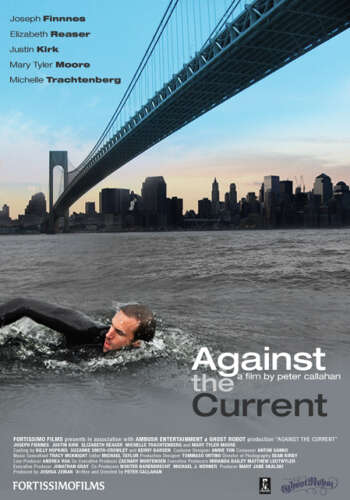 Synopsis
PAUL THOMPSON (Joseph Fiennes) is a man burdened by the past. Haunted by tragic memories, Paul has become the shadow of the warm, loving person he once was. In fact, Paul' s only current source of happiness, seems to be his lifelong friend, JEFF (Justin Kirk), an out-of-work actor-cum-bartender with a wicked sense of humour.
One night over drinks, Paul pleads with Jeff to accompany him on "the swim", a 150-mile endurance test down the Hudson River - from Troy, New York to Manhattan's Verrazano Bridge. Eager to escape his crumbling marriage Jeff agrees, but not before inviting LIZ (Elizabeth Reaser) a schoolteacher on summer break to come along for the ride. To the boys surprise Liz impulsively accepts.

That week, the trio head upstate to buy a boat and start their journey. Adamant that they reach New York City by August 28th, Paul keeps them on a tight schedule. Rain or shine, he swims, while they ride along side in the boat, stopping each night to camp along the river's edge.

However, halfway during the trip, as the sun sets over the majestic Hudson, Paul reveals his true intentions: when he reaches the end of his swim, he is going to kill himself. The finish date, Aug 28th, will mark the five-year anniversary of the death of his wife and unborn daughter. Consumed by his grief and despair, Paul has been unable to find closure and move on.

Realizing that the only way to save Paul might be to continue with the swim, Jeff and Liz agreed to stay on. And so with each passing stroke, a gallows humour settles over the three as they find themselves debating the finer points of jelly donuts, sex, and suicide. As the jokes and one-liners mix with deeper exchanges, the journey down river becomes a battle not only to save a friend, but also discover what it is they ultimately seek inside themselves.

Both tragic and surprisingly humorous, AGAINST THE CURRENT is a compelling and uncompromising exploration of grief and loss, one's right to determine one's own fate, and the limits and responsibilities of friendship.
Selected Festivals:
AFI Dallas IFF - Special Jury Prize
Sundance FF
Waterfront FF
Chicago IFF
Year
2009
Duration
99 Mins
Genre
Country
United States of America
Director
Peter Callahan was born and raised in Hastings-on-Hudson, New York. A high school dropout, he drove a taxi for several years before returning to school, eventually earning a Master's degree in journalism from Columbia University.

Moving to Los Angeles, Callahan optioned several screenplays to Hollywood studios before returning to his hometown to write and direct the independent feature LAST BALL in 2001. The film had its world premiere at the Los Angeles Film Festival and its international premiere at the San Sebastian Film Festival in Spain, where it was the sole U.S. film selected to compete in their prestigious New Director's competition.
Producers
Joshua Zeman
Mary Jane Skalski

Cast
Joseph Fiennes
Justin Kirk
Elizabeth Reaser
Mary Tyler Moore
Michelle Trachtenberg

Additional Credits
Screenplay
Peter Callahan
Co- Producer
Wouter Barendrecht
Co- Producer
Michael J. Werner
Executive Producer
Jonathan Gray
Executive Producer
Miranda Bailey
Executive Producer
Matthew Leutwyler
Co-Executive Producer
Richard Bever
Co-Executive Producer
Tamer Howard
Co-Executive Producer
Zachary Mortensen
Associate Producer
Edith Mehiel
Associate Producer
Charlie Hofheimer
Line Producer
Andrea Roa
Music
Anton Sanko
Production Designer
Tommaso Ortino
Sound Mixer
Anton Gold
Production Company
Ghost Robot
Edited By
Michael Taylor
Director of Photography
Sean Kirby
Costume Designer
Annie Yun
Music Consultant
Tracy McKnight
Casting
Billy Hopkins
Casting
Suzanne Crowley
Casting
Kerry Barden
Casting
Paul Schnee
Production Company
Ambush Entertainment