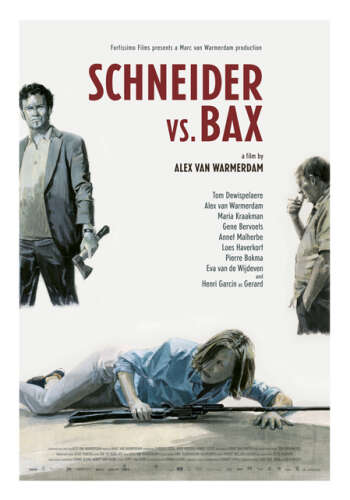 Synopsis
Schneider, a hit man, gets a call from Mertens on the morning of his birthday. He has a rush job for Schneider who refuses it, because it is his birthday and he has promised Lucy, his wife, to help her with the preparations for the dinner party. Mertens insists that it is an important matter. When they meet in Mertens' office, Schneider is told that the target is Ramon Bax, a writer. He lives alone in a secluded place. "It's an easy job. With a little luck you're back home before noon. " Schneider accepts the assignment.
Bax, over sixty, is staying at his summer house on the edge of a lake surrounded by reeds. He is recovering from a night of drugs and alcohol. When he remembers that his daughter Francisca is coming to see him today, he heartlessly gets rid of his young mistress Nadine. Francisca arrives. She is depressed and unhappy, and her father does not know how to deal with her. He urges her to take drugs and compares her unfavorably with her sister. They quarrel and she starts to cry. Bax suppresses his discomfort with a joint, vodka and some haphazardly chosen pills. What seems to be a simple job turns out to be more than expected.
Selected Festivals:
Locarno FF
Vancouver IFF
Warsaw IFF
Chicago IFF
Portland FF
Hamburg FilmFest
Netherlands FF
Sitges Fantastic FF
Year
2015
Duration
96 Mins
Genre
Country
Netherlands
Director
Writer, designer, director and actor was born on August 14, 1952 in Haarlem, the Netherlands. After attending the School of Graphic Design, he went to study at the Gerrit Rietveld Academy in Amsterdam, where he graduated in graphic design and painting. He was co-founder of the Music-Theatre Company Hauser Orkater and in 1980 he set up De Mexicaanse Hond Theatre Company.
He made the short film DE STEDELING and after that, the feature films:
ABEL
(1986), which won the critic's award at the Venice film Festival, THE NORTHENERS (1992), which won three Felix's in 1992 for music, art direction and best film, and THE DRESS (1996), winner of the FIPRESCI Award at the Venice Film Festival, and the Dutch Film Critic's Award. THE DRESS was sold to over 25 territories. LITTLE TONY (1998), which won the Prize of the Filmfest (Annet Malherbe) at the Ludwigsburg/Stuttgart Film Festival and was nominated for the European Film Awards 1998 in the categories Best Actress and Best Script. GRIMM (2003) has been screened at several festivals worldwide. His films have won awards all over the world at international film festivals. BORGMAN (2013) was selected in competition at Cannes Film Festival.
Producers
Marc van Warmerdam

Cast
Tom Dewispelaere
Alex van Warmerdam
Maria Kraakman
Annet Malherbe
Gene Bervoets
Eva van de Wijdeven
Pierre Bokma
Henri Garcin
Loes Haverkort

Additional Credits
Writer
Alex van Warmerdam
Co- Producer
Eurydice Gysel
Director of Photography
Tom Erisman
Editor
Job ter Burg
Sound Editor
Peter Warnier
Production Design
Geert Paredis
Line Producer
Berry van Zwieten
Costume Designer
Stine Gudmundsen-Holmgreen
Make-up
Marike Willard-Hoogveld
Casting
Annet Malherbe
Production Company
Graniet Film
Co-production Company
CZAR TV
Co-production Company
VARA