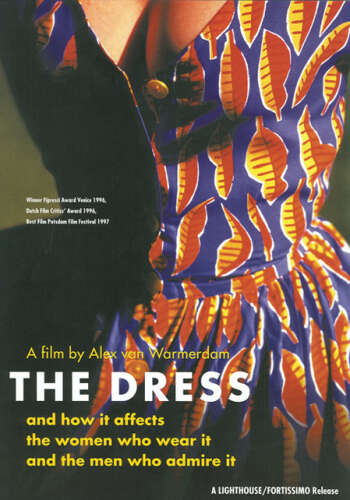 Synopsis
First there is the fabric. A motif of blue leaves selected by the director of a textile factory, much to the dismay of his artistic advisor. Then there is the designer, a man with bizarre sexual proclivities. Finally: the dress, on sale in a boutique. The first woman to wear the dress is past her prime. The dress awakens strange desire in her, desire that will prove fatal. The wind wafts the dress to Johanna, but as soon as she dons it, she kindles the insatiable lust of a railway guard and a bus conductor. Johanna finally gives the dress away to benefit a good cause. Now young Chantal wears it. Unfortunately, she also bumps into the railway guard. The same cause, the same effect. Chantal puts the dress in a bag, which is then stolen by Marie, a bag lady. Marie wears the dress under her clothes to protect her from the winter. Yet the effort is in vain, she freezes to death and will be cremated in the dress. However the story of the dress is not over yet. The railway guard is again confronted with it, in a museum this time. What insane acts will the dress drive him to this time?
Selected Festivals:
Venice FF - FIPRESCI Award
Netherlands FF - Dutch Film Critics Award for Best Film
Potsdam FF - Best Film
Rotterdam IFF
Rio de Janeiro IFF
Vancouver IFF
Montreal World FF
Karlovy Vary IFF
Pusan IFF
Taipei FF
Istanbul FF
Seattle FF
Philadelphia FF
Denver FF
Shanghai IFF
Rome IFF
Bangkok IFF
Palm Springs IFF
Year
1996
Duration
103 Mins
Genre
Country
Netherlands
Director
Writer, designer, director and actor was born on August 14, 1952 in Haarlem, the Netherlands. After attending the School of Graphic Design, he went to study at the Gerrit Rietveld Academy in Amsterdam, where he graduated in graphic design and painting. He was co-founder of the Music-Theatre Company Hauser Orkater and in 1980 he set up De Mexicaanse Hond Theatre Company.
He made the short film DE STEDELING and after that, the feature films:
ABEL
(1986), which won the critic's award at the Venice film Festival, THE NORTHENERS (1992), which won three Felix's in 1992 for music, art direction and best film, and THE DRESS (1996), winner of the FIPRESCI Award at the Venice Film Festival, and the Dutch Film Critic's Award. THE DRESS was sold to over 25 territories. LITTLE TONY (1998), which won the Prize of the Filmfest (Annet Malherbe) at the Ludwigsburg/Stuttgart Film Festival and was nominated for the European Film Awards 1998 in the categories Best Actress and Best Script. GRIMM (2003) has been screened at several festivals worldwide. His films have won awards all over the world at international film festivals. BORGMAN (2013) was selected in competition at Cannes Film Festival.
Producers
Ton Schippers
Alex van Warmerdam
Marc van Warmerdam

Cast
Alex van Warmerdam
Ariane Schluter
Elisabeth Hoijtink
Eric van der Donk
Henri Garcin
Olga Zuiderhoek
Ricky Koole
Rijk de Gooyer

Additional Credits
Writer
Alex van Warmerdam
Executive Producer
Patricia McMahon
Production Company
Graniet Film
Cinematography
Marc Felperlaan
Editor
René Wiegmans
Casting
Annet Malherbe
Costume Designer
Leonie Polak
Make-up
Kathy Kühne
Sound
Ben Zijlstra
Art Director
Jelier and Schaaf
Original Score
Vincent van Warmerdam