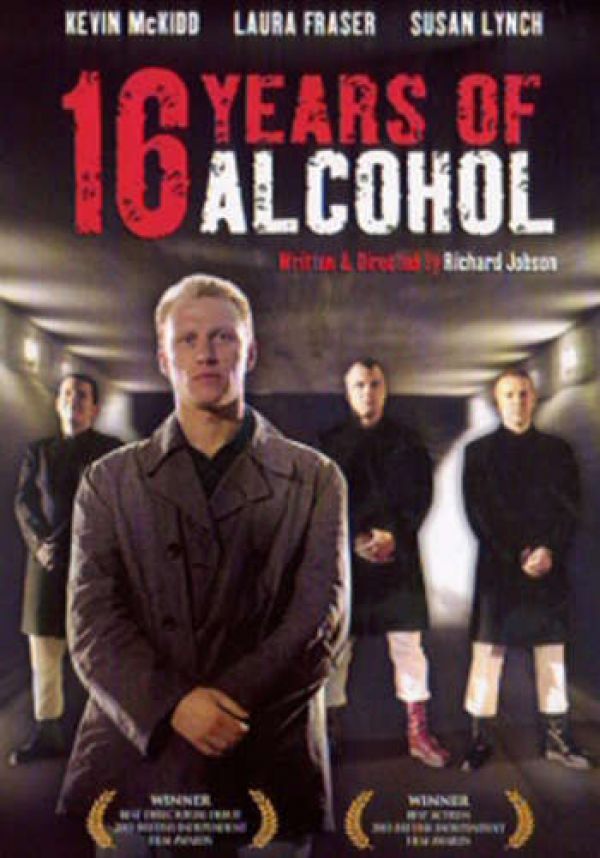 Synopsis
Set in Edinburgh in three distinct periods in the life of Frankie Mac, 16 YEARS OF ALCOHOL provides a challenging introduction to a man's belief in the meaning of hope.

As a young boy Frankie Mac watches the world around him drench itself in alcohol. His father, who has always been an iconic figure to Frankie, is seen for the first time as a philandering liar.

In his teenage years, Frankie leads a gang. They thrive on music, clothes and violence. A chance meeting with a young woman, Helen, introduces Frankie to a whole range of possibilities he had never considered. He begins to depart from his identity as a member of the gang, which turns them against him, creating a fatal enemy in the shape of the character Miller. Frankie falls in love with Helen, but cannot distance himself from the tyranny of the past, which returns to haunt him and any potential relationship. As his life starts to take a wrong turn again, he falls back into the familiar pattern of violence and alcohol.

As a man, Frankie has found new focus through group meetings and his role as an actor. A real sense of what his life could be begins to surface. He has met a new woman, Mary, who shows him how to be open and honest. Due to the shadow of the past never being far behind him he feels too vulnerable and afraid to commit, and allows a potentially beautiful relationship to fall apart. He has an opportunity to at last understand the meaning of hope and feel the power of love in all of its glory through telling Mary how he really feels.
Selected Festivals:
British Independent - Douglas Hickox Award & Best supporting Actress (Susan Lynch)
Dinard British Film Festival - Kodak Award for Best Cinematography
Locarno FF
Edinburgh IFF
Toronto IFF
Tromsø IFF
NatFilm Festival
Philadelphia FF
Brisbane IFF
Pusan IFF
Vancouver IFF
Year
2002
Duration
102 Mins
Genre
Country
Scotland, United Kingdom
Director
As film journalist and producer, he has recently produced the feature films JUST ANOTHER DAY IN LONDON (ICA), TUBE TALES (BSKYB) and HEARTLANDS (Miramax).

Jobson began his career as a teenager with the successful punk band THE SKIDS. He left THE SKIDS to study theatre and film, working with the prestigious company Paines Plough for many years before moving to Brussels where he recorded 4 poetry albums and released two books. On his return to the UK Jobson worked on film and theatre TV programmes as well as writing regular newspaper columns.

He presented and produced the critically acclaimed film discussion programmes MOVIETALK and FACE TO FACE. He made his directorial debut with an adaptation of his own book 16 YEARS OF ALCOHOL. The book was written in 1987 but until recently Jobson had declined many offers to adapt the book to film. The script adaptation was inspired by a conversation with Jobson's favourite filmmaker Wong Kar-wai during his promotional tour for IN THE MOOD FOR LOVE.
Producers
Hamish McAlpine
Mark Burton

Cast
Ewen Bremner
Iain De Caestaeker
Kevin McKidd
Laura Fraser
Lewis McLeod
Lisa May Cooper
Michael Moreland
Russell Anderson
Stuart Sinclair Blythe
Susan Lynch

Additional Credits
Executive Producer
Steve McIntyre
Executive Producer
Michael J. Werner
Executive Producer
Wouter Barendrecht
Screenplay
Richard Jobson
Cinematographer
John Rhodes
Editor
Ioannis Chalkiadakis
Costume Designer
Carol Miller
Sound
Malcom Davies
Production Company
Tartan Works Ltd.